Prep Saturday #2
Happy Saturday Families!
So today was supposed to be a busier photo day for us at the prep school. The weather unfortunately did not cooperate, but we still got some photos. Can you believe it? Next week is the final week of BMT. There is still lots ahead between now and next Saturday, however.
We were doing double duty today out at Jacks Valley to cover the USAFA Class of 2023 Basic Cadet Training.
We came back after lunch for Prep BMT action, because today was the Personal Appearance Inspection. (PAI). This is usually done outdoors, but was conducted in the dorms because of a storm that passed through. All of the Basics were inspected, but an element was selected from each squadron for a formal inspection by the permanent party staff which counts toward the top squadron award for BMT. Here are a few pictures from the formal inspection. The rest are up in the gallery, but be warned there aren't too many. The circumstances and weather just made it too difficult to get more than a representative sample.
Tomorrw the SAMI is on the schedule. What is a SAMI? It is an acronym for Saturday A.M. Inspection. Of course although today is Saturday, the inspection this time will be on a Sunday. All room inspections at USAFA are called SAMIs regardless of the day or the time they are held. Don't ask me why. The Basics all aready getting busy cleaning and preparing.
Apologies for the abbreviated coverage today. Blame Mother Nature. Our coverage today was supposed to end with a retreat ceremony, but that was cancelled also. Here is a photo from last year. We'll have another opportunity for one before BMT ends.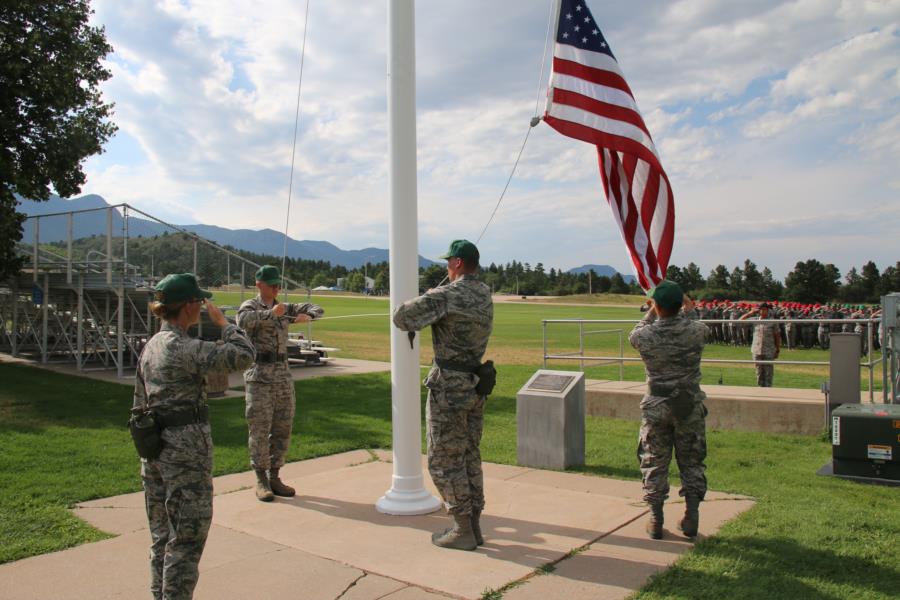 All the photos are up in the BMT gallery. Have a great evening. Back tomorrow.