Gen. Clark and CMSgt. Sparks visit Prep School
General Clark, USAFA Superintendent, and CMSgt. Sparks have been visiting the Prep School each month to discuss various aspects of the Prep School and Prep School life. Today they were there to get an update on the Airmanship Program for Cadet Candidates.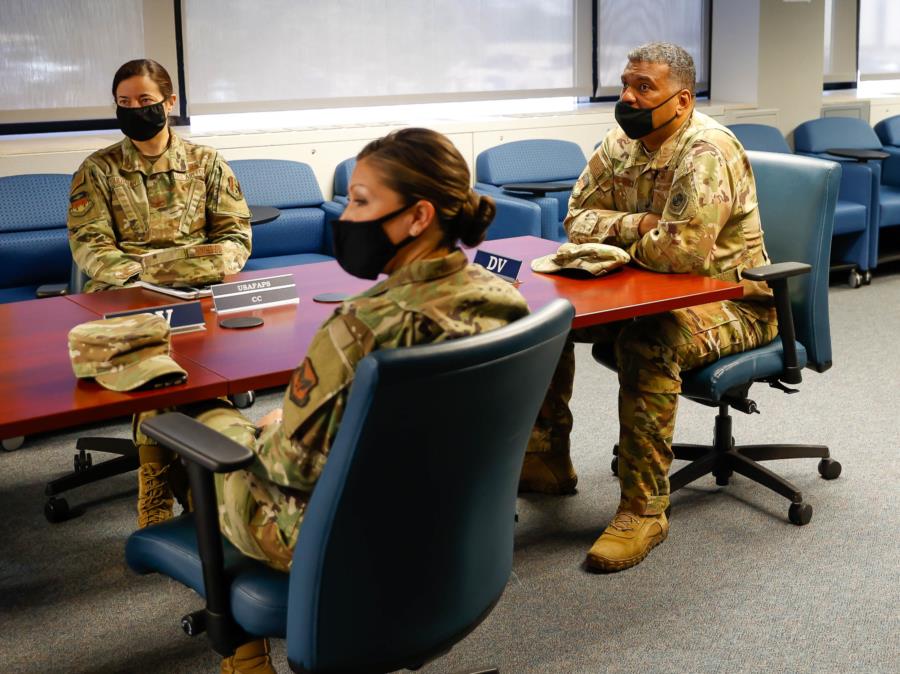 The Airmanship Program for Cadet Candidates (CC's) is a new elective program this year and its purpose is to "Provide Cadet Candidates voluntary aviation opportunities to experience aviation related skills in an effort to forge an interest in life-long career in aviation." The Prep School is working on making this an annual program which includes ground school and flight training. This year it is a scholarship program. In 2020, 27 CC's competed for this scholarship opportunity. There was a seletion panel made up of personnel from A30, 557 Flying Training Squadron, USAFA Diversity Office and AOC's. The basis for selection was done by grades, written essay and an interview. This year there were two full scholarships and two partial scholarships given to selected CC's. There are also 15 CC's privately funded for the program through Parental support, self-funded and AFCOOL funding.
All CC's in the program must maintain Academic, Military and Athletic performance standards and this is monitored by their AOC's. Gen. Clark and CMsgt. Sparks had an opportunity to speak with some of the program's CC's and get their feedback on the program. All of them felf it was a great program that they hope the Prep School can continue and expand on. The cadet candidates said they were enjoying the program immensely and that it has helped them in their other activities as well. Their grades have improved and they have had to learn time management skills.
The program is also looking to get an Advanced Aviation Training Device, better known as a simulator. This will help CC's learn basic pre-flight, flight and aircraft control experiences.
Everyone involved is very excited about the program and very motivated to see it succeed this year and many more years to come. This is a great opportunity for Prep School CC's to learn about aviation which can lead them to wonderful aviation careers in the military and beyond.
The Prep School C/C Group Staff were there as well to talk with Gen. Clark and CMSgt. Sparks.
The CC's took this opportunity to ask questions of Gen. Clark and CMSgt. Sparks and as always, they were happy to answer them. Some of the guestions were:
1. How do you handle moving up in rank and status in a competitive enviroment?
Answer by Gen. Clark- General Clark says that lack of humility can lead to downfall. One must remember where they came from and to understand where those they are leading are coming from. Everyone starts out at the bottom. Stay grounded and humble.
2. How do they overcome a tough day? Week?
Answer by CMSgt. Sparks- CMSgt. Sparks spoke about how she tries to keep her life in balance-mentally, physically and emotionally. This helps her handle the stresses of her job and helps her keep a consistant approach to work, co-workers and life. She starts each day with 30 mins of quiet time just for her which she uses to start each new day with a new mental attitude.
2021 Exemplar Coin (Class coin) was presented to Gen. Clark and CMsgt Sparks by CC Markland and CC Holley who designed the coin.
In return, Gen. Clark and CMsgt present them each with their own coin in the traditional manner of receiving the coin in a hand shake. Superintendent coins were also given to all CC's that participated in today's Superintendent's Prep School Out and About.
Superintendent Coin
Chief Master Sergeant Coin
To view the photos from this Superintendent's Out and About, go to Classes > Prep School > Prep Life. Set photo order Oldest to Newest and then select start page. Or click on the link below.
Superintendent's Out and About pg. 179-184 Airmanship Program Update