Tuskegee Airmen - AF History
Before we talk about the visit the C/C's received last week here's a little background on who the Tuskegee Airmen are and a highlight of some of the things they accomplished.
Before the Tuskegee Airmen, no African American had been a U.S Military Pilot.
žIn 1940, under pressure from black activists and President Franklin D. Roosevelt, the USAAC reversed its position on accepting black flight program applicants. However, the brass was not fully committed to this change and anticipated that the program would fail spectacularly.
žThe new program's cadets were determined to create a record of excellence during their training and future war service so there could be no doubt about their value as patriots and aviators.
While the Tuskegee airmen did lose 27 bombers planes to the enemy, it was impressive compared to the average for other pursuit squadrons who lost around 46 bombers.
To give you an idea of their accomplishments; The Tuskegee Airmen destroyed over 260 planes, 112 by air and 158 on the ground and they destroyed over 40 Boats, one of which was a German torpedo boat.
Some of the awards they were given as a unit; 1 Silver Star, 96 Distinguished Flying Crosses, 14 Bronze Stars, 744 Air Medals and 8 Purple Hearts.
žWhy did they join with everything going against them at the time?
Fighting for a better life was worth it. Although coming back home from a successful escort was something to be proud of the fight to be respected as an African American pilot was not easily changed. But what they did, made an impact and eventually a change.
Daniel L. Haulman, Ph.D., chief of the Organizational Histories Branch of the Air Force Historical Research Agency once said, "If they did not demonstrate that they were far superior to the members of the six non-black fighter escort groups of the Fifteenth Air Force with which they served, they certainly demonstrated that they were not inferior to them, either. Moreover, they began at a line farther back, overcoming many more obstacles on the way to combat… Their exemplary performance opened the door for the racial integration of the military services, beginning with the Air Force, and contributed ultimately to the end of racial segregation the United States."
Tuskegee Airmen visit the Prep School
On Monday the Prep School was honored by a visit from Mr. Franklin Macon and Col. Mark Dickerson (Ret).
2nd Lt Franklin Macon learned to fly while he was in high school as a member of the Civil Air Patrol Cadet Program. He soloed from Pine Valley Airport which is now the USAFA airfield. In 1943 he enlisted into the Army Air Corps and had Basic Training down at Keesler Field, Biloxi, Mississippi.
In 1944 he entered the Tuskegee Airfield's Class of 45A and was admitted into Advanced Training where he flew the (A)T-6's. In 1945 he ruptured his eardrums one week before graduation from Upper Advance Flight Training School had had to receive surgery. Afterward he recovered he returned to the Tuskegee Airfield as a Flight Gunnery Instructor and was later discharged from the Military in April of 1946.
From 1950 into the 1970s Mr. Macon was in charge of Aircraft maintenance as a Civil Service employee at Fort Carson, Colorado. Where he designed and built several devices for Army aviation employees, including an instrument flight trainer. He also supervised maintenance crews for the Colorado Guard, Wyoming Guard and the Atomic Energy Commission in Grand Junction, Colorado. He went to a helicopter maintenance school at Fort Rucker, Alabama where he was taught to fly helicopters. And he has made great contributions while working for Research Analysis and Development where he identified the cause of a Delta Airlines aircraft crash.
His favorite weekend past time is flying gliders.
Col. Mark Dickerson
Col. Mark Dickerson retired from the Air Force after a 25-year career with over 4500 hours of flying time in over 40 aircraft types, from fighters to helicopters, including multiple tours as a Test Pilot. He holds a Bachelor of Science degree in Engineering Physics from Cornell University, a Master of Science degree in Aeronautical and Astronautical Engineering from Stanford University, and an MBA from Regis University. He is a graduate and former Deputy Commandant of the USAF Test Pilot School and is also an Associate Fellow and former Board Member with the Society of Experimental Test Pilots. After leaving the Air Force, he spent 7 years as a NASA Research Project Manager, and is the only African American to ever become a Research Pilot at NASA's Dryden Flight Research Center.
He is a Community Emergency Response Team volunteer with El Paso County, president of the Colorado chapter of Tuskegee Airmen Incorporated, a member of the NAACP and the Soaring Society of America. He is also a senior member of American Institute of Aeronautics and Astronautics (AIAA) and former member of the AIAA Flight Test Technical Committee.
Dickerson is currently on the Adjunct Faculty of Colorado Technical University. In his spare time he is a flight instructor and Tow Pilot with his Soaring Club, serves as a small group leader at his church, runs two blogs, and has recently published his second book "WARNING: This Book May Get You Killed", a study of heroism by everyday people. He is married to the former Phyllis DuBose of Sacramento, California.
The C/C's had the opportunity to both listen to both of these men talk about their careers and ask them questions. At the end C/C Vidican gifted them both with Prep School Hats on behalf of the Prep School.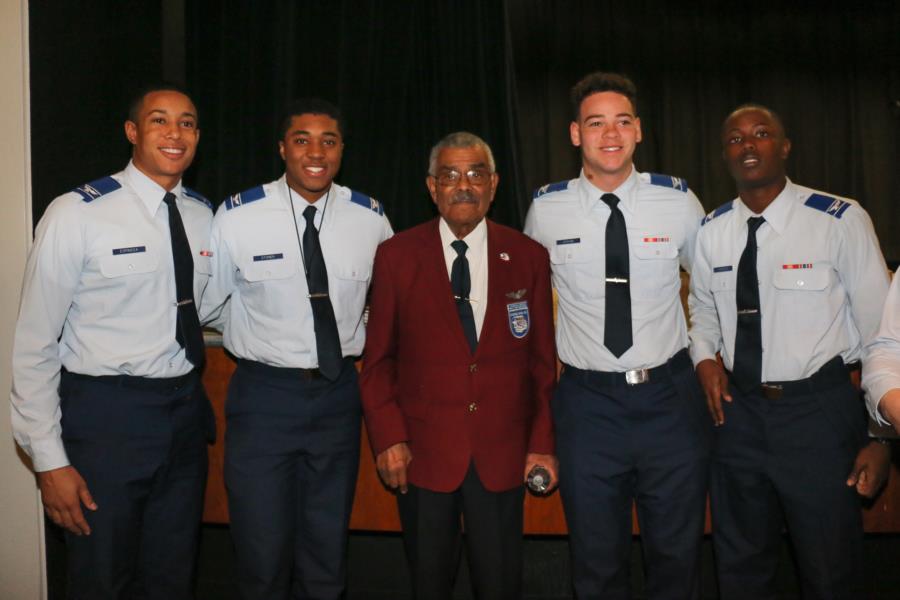 To view the rest of the pictures from the Tuskegee Airmen; go to Classes - Prep School - Prep Life. Or click the link below.