Pearl Harbor Survivor, Jim Downing - Visits The Prep School
Earlier today the Prep School C/C's and Faculty had the honor of a visit from the oldest Pearl Harbor Survivor, Jim Downing. A group of C/C's had the chance to sit down with him for lunch before he spoke to the Prep School during their PLT time.
Jim Downing was born August 22, 1913, in Oak Grove, Missouri.
He joined the Navy at age 19, the first ship he was assigned to was the USS West Virginia, where he served as gunner's mate 1st class and postmaster.
Just 149 days after marrying his wife Morena, the Downings' lives were turned upside down by the Japanese attack on Pearl Harbor. They were not able to see each other face-to-face for the next 18 months.
Of the many questions from C/C's and staff one that was asked was; What he told the families of those who had fallen around him?
He told the audience that he had taken the fire hose from the ship next to them to keep the fire away from the ammunition on their ship and how the name tags and landards they had were fire proof, he thought to himself as he looked around, "Their parents will want to know what happened so they can have some closure. Not just that their son or daughter is MIA," he told them that their son/daughter was a real hero to be proud of and that they gave their lives defending our country." He memorized the name tags of the fallen around him so he could write a personal letter to their families.
At 103 years of age, Jim Downing is the oldest known survivor of the December 7, 1941, Pearl Harbor attack.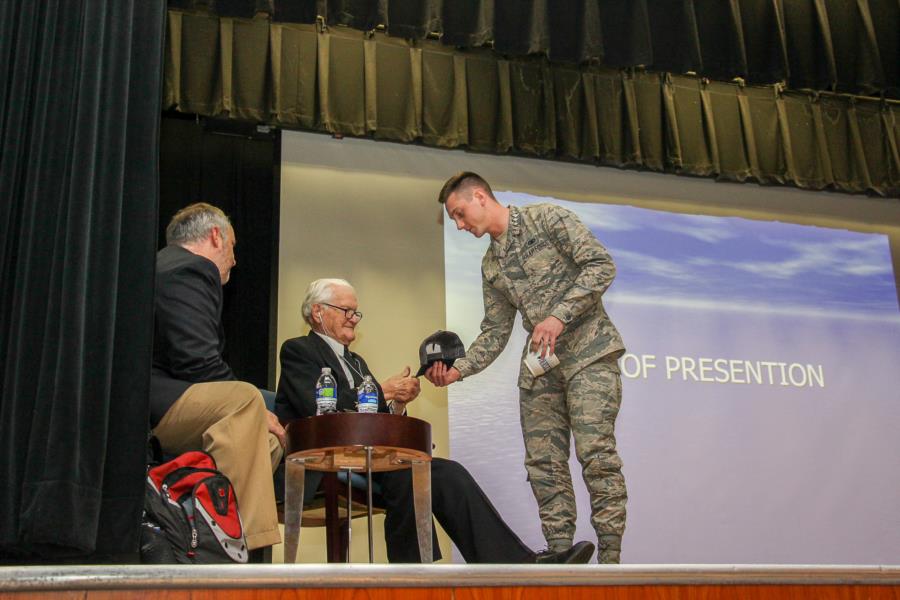 Afterwards, the Prep School presented him with a Prep School hat and Huskies mug. Many C/C's and Staff had bought his book prior to this visit and were able to get it signed by him and talk to him one on one briefly.
To view the rest of the pictures from the rest of the Prep Schools visit with Jim Downing go to; Classes - Prep School - Prep Life. Or click the link below.
Jim Downing, Oldest Pearl Harbor Survivor - Visits The Prep School