Prep School BMT Wrap-Up
Good Evening!
BMT is now in the books for another prep school class. Congratulations to Bravo Squadron. Top squadron for Basic Military Training. It's hard to see their faces behind the masks, but it is easy to see their pride. The Wings of Blue made the announcement when they jumped onto Black Parade Field at the conclusion of the graduation ceremony this year carrying the Top Squadron Banner.
Here are some photos from culminating activities which included a road march, a climb up "The Stairway to Heaven" pictured below, (ask your Preppie what that is), the graduation ceremony and finally a demonstration by the USAFA "Wings of Blue" skydiving team. During the ceremony the Military Training Instructors from Lackland AFB were recognized along with the Cadet Cadre. Finally they threw their hats in the air. The next time they do that will be in 4 years in Falcon Stadium. Look how good they are marching now!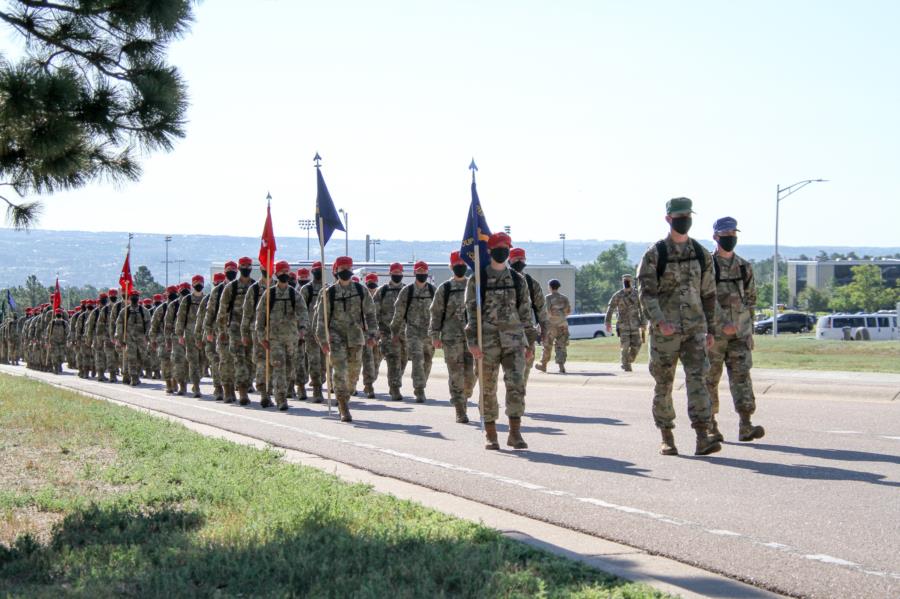 All of today's photos are up for your hunting and viewing pleasure. As mentioned earlier, the full BMT Graduation Ceremony Video will not be available until probably Monday. We know you are anxiously waiting, so it will go up here in another blog as soon as it's ready. The BMT Photo Album is now complete. This is also the last BMT blog entry. Today is not only the end of Basic Military Training, it is also day #1 of the transition schedule for your newly minted Cadet Candidates. Hopefully you will soon have phone, text, & email contact again. As I write this, I am sure many of you are anxiously waiting for that first phone call. Be patient. Parents may not be the first person they call. Don't take it personally.
Tomorrow is filled with academic placement testing and computer issue. It's a work day for the CC's. On Sunday morning there will be free time or worship services. After lunch it is getting down to the business of getting started. Monday is all briefings, meeting with academic advisors, and all the things one does when getting ready to start school. Classes begin on Tuesday. I don't have specifics on the schedule going forward. Your Cadet Candidate will be able to fill you in on their specifics once they are briefed. Please also remember that they are adults. This is a transition time in their lives. They get to decide what information you receive. Give them and the Prep School time to get into the routine of the academic year.
This is a also transition time for the WebGuy team. As we move into our academic year coverage, our blog entries and photos will move from daily to periodic. We will take some time to have a bit of a break ourselves. That being said, after today I will still have a few new BMT photos for you, including the portrait photos we took on day 2 of BMT. We will be sending out an alert on our facebook page and in the blog when the BMT Portraits have been uploaded. As soon as we get the academic year schedule, we will be able to create our coverage schedule and have more information about that for you. As I said in yesterday's blog entry, we will adjust as the prep school adjusts to this crazy environment we are all living in.
There is much to cover during the year, but it won't be daily. In pre-pandemic years we generally covered something every week in one of the three main areas of prep school training. Academics, Athletics, & Military Training. We have no idea at this point what the sport teams coverage will look like. Be assured that we will cover what we can. We will use our WebGuy Facebook page to give you updates and our blog and galleries here to provide all the detail and photos, so check back often. Going forward you will see more icons when you go to look for photos. As I posted yestery, the Prep Album page will eventually look like this by the end of the year as we add more photos in different categories. Don't worry, we'll tell you how to find them. As you can see, there is much more to come.
This is not quite a wrap for this summer, but it is close. Stay tuned for the BMT portraits over the weekend.
I began meeting and speaking with many of you starting with your virtual Appointee send-offs around the country in May and June. It has been my honor and pleasure to visit with you via this blog every evening. I hope you have enjoyed reading it as much as I have enjoyed writing it. I actually learned alot myself in answering some of your questions.
That doesn't mean that the blogging will stop. On the contrary, we are just getting started. I will still be putting in my two cents, but you will also be hearing from other members of our WebGuy team. They will introduce themselves along the way. The blog will always be your context for the photos you see.
It goes without saying that none of this magic could happen without the talent and countless hours put in by the entire WebGuy Team, both for Prep School BMT, but also for USAFA BCT, Soaring, Jump, Powered Flight, & RPAs. All of this goes on at the same time starting right after Graduation in May each year. This year COVID gave us additional challenges, but we made it! So, here's a toast to all the hard working AOG WebTeam! Thanks for all the goodies! They were and are very much appreciated.
Enjoy all the photos. There a lots more to come over the next 10 months.
Go Huskies!