Life on the Hill #3
For this week's Prep School Life on the Hill Segment, AOC's and AMT's from the Academy came to speak with the C/C's.
Lt Col Megan Schafer, Maj Andy Allen, MSgt Zachary Marshall, Lt Col Cheo Stallworth, MSgt Michael Thomas, Lt Col Christopher Hubbard, TSgt Christopher Dooley, TSgt Reginald Brooks, Maj Jennifer Alickson, and TSgt Ian Collins were the AOC's and AMT's in attendance.
What are AOC's and AMT's?
Air Officer Commanding Masters' Program (AOC MP)
The Department of Behavioral Sciences and Leadership (DFBL) is the Air Force Program Manager for the Air Officer Commanding Masters' Program (AOC MP), an Air Force Intermediate Development Program (AF IDE) that prepares approximately 20 officers per year to command United States Air Force Academy (USAFA) cadet squadrons as Air Officers Commanding (AOCs). In the course of one year, AOC MP Students will complete a 45 credit hour graduate degree program resulting in a Master's Degree in Counseling and Leadership from the University of Colorado at Colorado Springs. Additionally, they will complete 400 field experience hours at USAFA and in the local community to practice the knowledge and skills gained in their academic program. Upon graduation and completion of the AOC MP, they will take command of their squadrons and spend the next two years of their USAFA tour developing approximately 115 cadets into leaders of character.
Academy Military Training (AMT) NCOs
Throughout an academic year, the AMT supports the Air Officer Commanding (AOC) and a cadet squadron of approximately 110 cadets. They provide day-to-day guidance and mentorship to cadets in all stages of their cadet career; mentoring 4th Class cadets as newly transformed civilians to 1st Class cadets with the duties and responsibilities of being cadet officers leading a squadron and preparing to become commissioned 2nd Lieutenants. Oversight is provided to a cadet squadron commander and his/her staff to ensure the effective administration of the squadron. The cadets fulfill all the duties and responsibilities of positions held in an active duty squadron from Operations Officer or Section Commander to Element Leader and First Sergeant. The AMT oversees the cadets as they carry out their duties; whether it be completing a tasker or disciplining subordinate cadets. The AMT provides feedback and mentorship on how they perform their roles and coaches them on how they might handle situations to achieve the best results possible. Additionally, AMTs provide weekly instruction through Cadet Professional Military Education classes. In these classes, the cadets receive valuable instruction on the profession of arms as it relates to being effective commissioned officers and leaders of Airman. This instruction continues well beyond the classroom as they mentor the cadet leaders in motivating their squadrons to accomplish the mission and take care of their troops. As the cadets progress in rank from cadet junior NCOs to cadet officers, the AMT is there to ensure that every cadet that is commissioned is fully prepared to be a true leader of character in the US Air Force.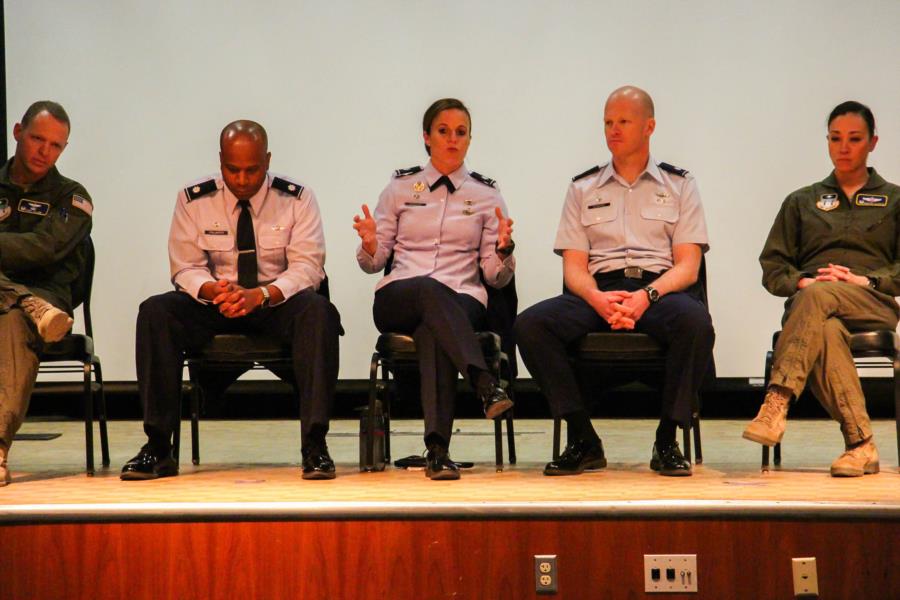 The C/C's asked the AOC's and AMT's questions about training and what they hold as the standard, to what do past Preppies who are now Cadets say they wish they'd known going into the Academy.


At the end of the segment each person was asked to give a word of advice to the C/C's.
"Remember why you came here. People come here to be great. They don't come here to be average. It's tough to be outstanding at the Academy but if you continue to strive and remember why you came here then you'll be just fine. We'll figure out how to help you get to where you need to be."
"Let what brought you here, whatever the drive was that brought you here - let it keep you here. Family, be it wanting to make a difference. When the days get hard, remember that thing and let that be the motivator on a day to day basis."
"Don't forget who you are as a person... Who am I, what are the actions I take? What are the words I say? How does that reflect upon me? That can carry into who you are. Are you proud of your family name, your heritage? How do I represent myself as an Officer? Reflect on it. Let it fuel the way you behave and the way you treat the people around you."
"You are going to make mistakes and you are going to fail at things, don't let that define you it's how you respond to that. It's going to be challenging, it's intentionally made that way because when you get out and become an Officer in the active duty Air Force it is going to be challenging. Just the fact that you made a mistake or failed at something, it doesn't define who you are it is how you respond to it."
"Once you remember who you are, work to actually be who you are. There's a tendency sometimes at the Academy where we can go easy, we can go hard, get pulled many different ways. Once you remember who you are actually work to be who you really are. This is a very challenging and dynamic environment we can be tempted to do things that aren't really us like maybe give up and that's not who anybody in this room really is. It's not in ourselves to give up, to lower our standard or apologize for having a high standard so have the courage to be who you are."
"Sharpen your skills."
"This isn't all about you individually as singular people everybody in this room is going to push someone else, they are going to motivate someone else, rely on someone else, you can't get through this just alone. You have to understand how to take advantage of that and move forward with it."
"Decades ago we used to refer to the Military as the Service. You'll never find a more about you mission than the Prep School and USAFA and even then it's not about you. There's nothing here about you, it's about the Airman you are going to lead in four and a half years, your family. Everybody on the outside who breaks their back on a weekly basis to earn money to pay taxes to pay your paycheck with the full confidence that you are going to be confident in your job. That you are going to do what you are supposed to do. That we're going to remain the strongest Military on the face of planet earth. We are only as strong as you guys, we need you to remember this. It's not about you, it's about Service. It's about leading your folks, doing the best you can, being knowledgeable in what you are supposed to be knowledgeable and when you feel like giving up - think about all those people who are counting on you around this country to be good at what you do. Just remember that"
"At the beginning of this year I had my fighters (Boxing Coach) write on a dry erase board what their goals were. Every time we have practice I ask them "Who wants this more than you do?" The answer should be nobody."
"Show up to Basic with an open mind. Basic is your opportunity to step up and help those around you. Be the leaders that we've all been talking about."
To view the rest of the pictures go to Classes - Prep School - Prep Life. Or click the link below.