BMT Is Officially Over!
BMT has officially concluded and by now your Cadet Candidates are officially Preppies!
This morning was a busy one!
Events this morning began with the Oath, once completed they received their Cadet Candidate shoulder boards! During the Oaths, each flight within the three Squadrons spreads out and goes off on their own to receive their shoulder boards. We had three photographers out this morning for all of the BMT Graduation activities, but if we did not catch your Cadet Candidate, it was not for lack of trying!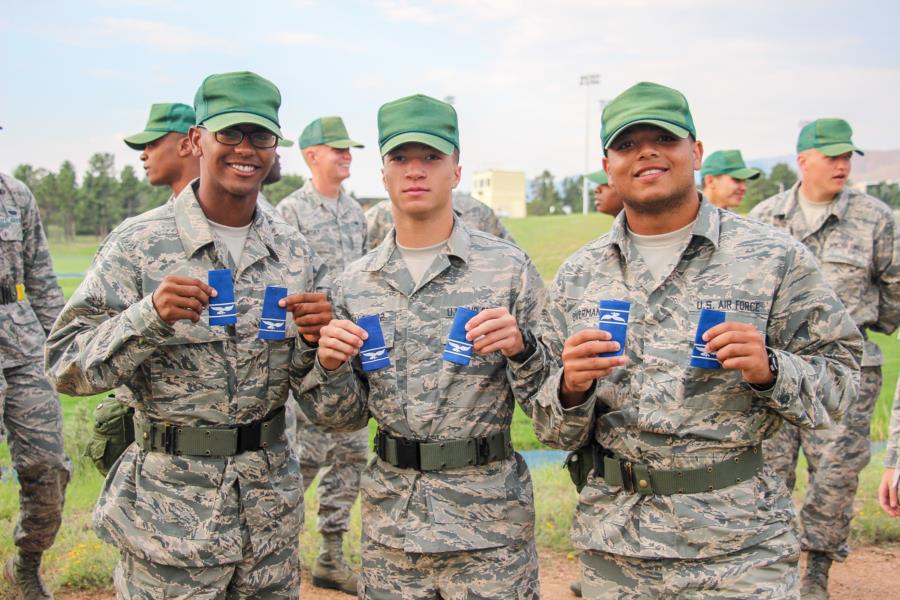 After the Oaths took place, it was time for the March! As a class, they march in formation down Pine Drive, around the corner and make their way up the Stairway to Heaven which eventually gets them back to the Prep School Grounds. This is somewhat a rite of passage at the end of BMT.
Once completed they formed up on Black Field for the BMT Graduation Ceremony, the Commandant of Cadet Candidates, Maj Foster presented the Wing to the Commander of the Prep School Col Breeden and each of the BMT Cadre were also recognized for their achievements.
Then finally, they were dismissed and changed their Squadron color cover to their ABU cover to signify the change from BMT to Academic Year.
After the conclusion of the Graduation Ceremony, they got a show by the Wings of Blue jumping in.
One of the BMT Cadre who is on the Wings of Blue, landed last wearing the Top Squadron of BMT - Alpha Squadron!
Tomorrow is the final Summary Sunday blog with video highlights from this past week. Even though BMT is over, we will still be getting lots of coverage throughout each month of the Preppies so be sure to check in and see what they're up to! See you all tomorrow! Enjoy the pictures and Happy Hunting!