Eastern Massachusetts Night
Yesterday, the Academy welcomed the Eastern Massachusetts Parent Club with their 8th annual Eastern Massachusetts Night!
The 48 Eastern Massachusetts Cadets were able to bring one guest each with a total number of attendees around 90 for the evening! When each cadet arrived they received a gift bag which included: Cape Cod chips, Boston Baked Bean candy, Gummy Lobsters, and a mini frisbee.
This year two parents were in attendance to help host - Mary Raab (Parent of C4C Meaghan Raab) and Jeanna Cumnock (Parent of C1C John Francois).
"Eastern MA night began 8 years ago as a way for the cadets from MA to get to meet one another and share their USAFA experiences. It started as a small dinner in a conference room and has grown each year. 2017 was the first time that we had parents go to host the event."
- Mary Raab
Fun Fact: The event was held on the Massachusetts state holiday Patriot's Day. Which celebrates the Revolutionary War Battle at Lexington and Concord which is commonly known as "the shot heard round the world". Most people only know of this day as the day that the Boston Marathon is held.
The food was a barbeque dinner catered by Famous Dave's and the dessert served is Massachusetts's official dessert - Boston Cream Pie which was generously donated by Carol at Creative Cakes.
Over $2500 worth of goods were donated by the Parents Club and 3 corporate donors (Vineyard Vines, Boston Celtics and New England Patriots). The Parents Club even received a letter of appreciation from Robert Kraft (Owner of the Patriots). The Parent Club wanted everyone to be able to leave with a nice prize that lets them know how much the Parents appreciate their cadets and the sacrifices that they are making. The prizes were given away for answering Massachusetts trivia questions correctly.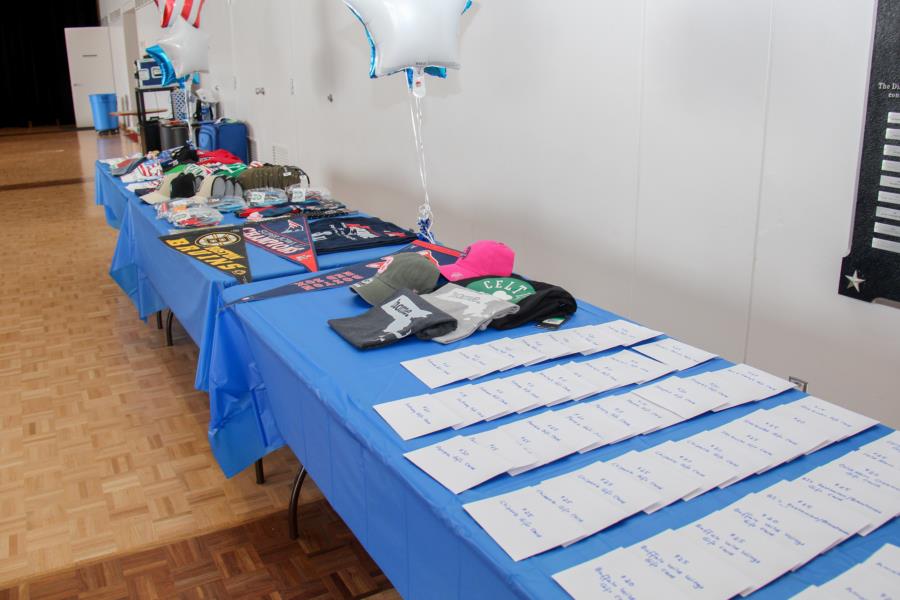 Gift Cards to:
Clothing Items:
- Amazon - Chipotle
- Buffalo Wild Wings - Starbucks
- Chik-fil-A - Staples
- Ben and Jerry's - Subway
- Coldstone Creamery - Panera
- Dunkin Donuts - Dominos




- Vineyard Vines shirts
- Patriots gear
- Boston Sports gear
- Cape Cod clothing
- Brunes shirts
- Celtics shirts
- Boston/MA shirts
There was also two drawings for some of the larger prizes. A $50 Gift Card to Amazon and a Bose Bluetooth Speaker.
"We want the Cadets to know how proud we all are of the them and the sacrifices that they have each made to serve our country. We want them to know that we support them wholeheartedly and that we enjoy this opportunity to plan a fun evening full of good food, lots of fun and laughs, a bit of competition, and a chance to get to meet each other on a social level no matter what year they are."
- Mary Raab
To view the rest of our glimpse into Eastern Massachusetts Night go to; Galleries - Extracurricular - Special Events. Or click the link below.