Pictures Are Up!
We caught your Basics after lunch today during their 2nd Shirt Issue.
With so many new arrivals and around 4 to 5 ABU Shirts per Basic it takes the tailors a bit of time to get all of the names sewn onto their uniforms. With this only being the 2nd Shirt issue, you might see coverage like this again in the near future.
We were able to catch a glimpse of every Squadron but if we didn't happen to catch your Basics specific Flight today that doesn't mean that we didn't try or that we won't catch them sometime next week. If you haven't already figured it out, each color badge represents a Squadron. In the coming weeks when your Basics are involved in activities such as Intramurals. You might catch pictures with badge colors from more than just your Basics Squadron in their Gallery. For instance, seeing Aggressors in Cobras Gallery or vice versa. When this happens it means that with the mixture of Squadrons at such a high level it's just easier to tag them with both Squadrons.
We'll give you an example of each Squadron color below with the help of our coverage today.
AGGRESSORS - Light Blue
BARBARIANS - Orange
COBRAS - Purple
DEMONS - Green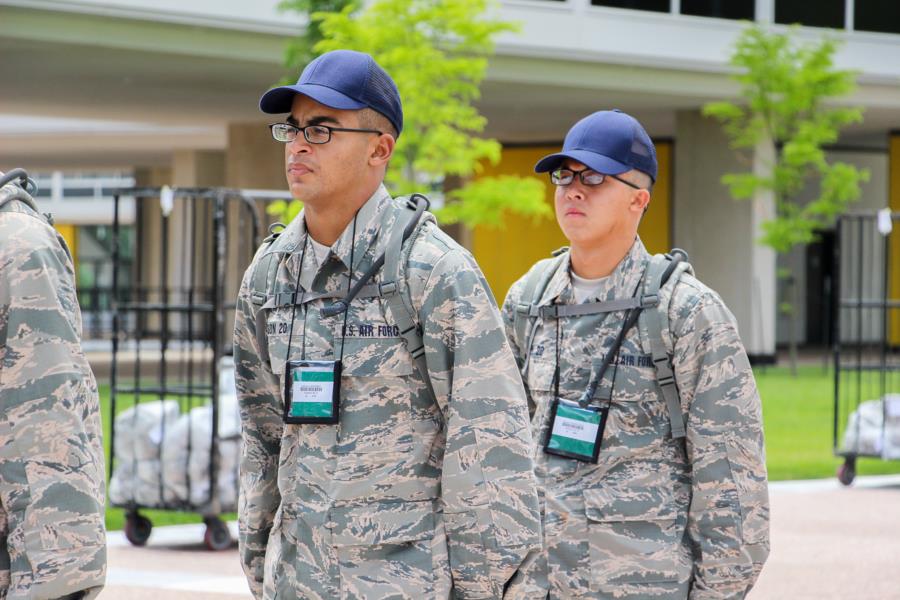 EXECUTIONERS - Dark Blue
FLYING TIGERS - Red
GUTS - Maroon
HELLCATS - Yellow
Well, that's it for now folks.
We hope this helps to explain things a bit more, tomorrow your Basics will be going through Exams all day which means there won't be any pictures posted but we are naming Sunday as our "Summary Sunday", blog day. So definitely check back tomorrow for a Highlight Blog from this week's coverage.
Monday we will have more BCT coverage coming your way but for now we hope you have a great weekend!
Happy Hunting!