All Ohio Night
The first of many State Nights was held last Friday evening. The All Ohio Night hosted by The Central and SE Ohio USAFA Parents' Association was held in the Arnold Hall Ballroom. They hosted 325 Ohio cadets and guests.
The All Ohio Night began in 2017 as a way of getting Ohio Cadets together and recognizing them for their commitment to serve our Country. As parents, they know their Cadets chose to forgo a typical college experience to take on the rigors of the U.S. Air Force Academy with its high academic demands, military training, leadership requirements, and volunteer commitments. This year they had 18 parent and sibling volunteers on-site at USAFA with many more soliciting donations and door prizes.
The Parents' Association wanted to bring the taste of home to their Ohio Cadets and accomplished this with Ohio-based favorites such as Skyline Chili, Donatos pizza, City Barbeque, Roosters, Smales Pretzels, Cheryl's Cookies, and 1,600 candy Buckeyes handmade by one of their parent volunteers. They also had Cane's Chicken Fingers, chicken wing dip, mac-and-cheese, salad, fruit and a USAFA favorite, Carol's Creative Cupcakes.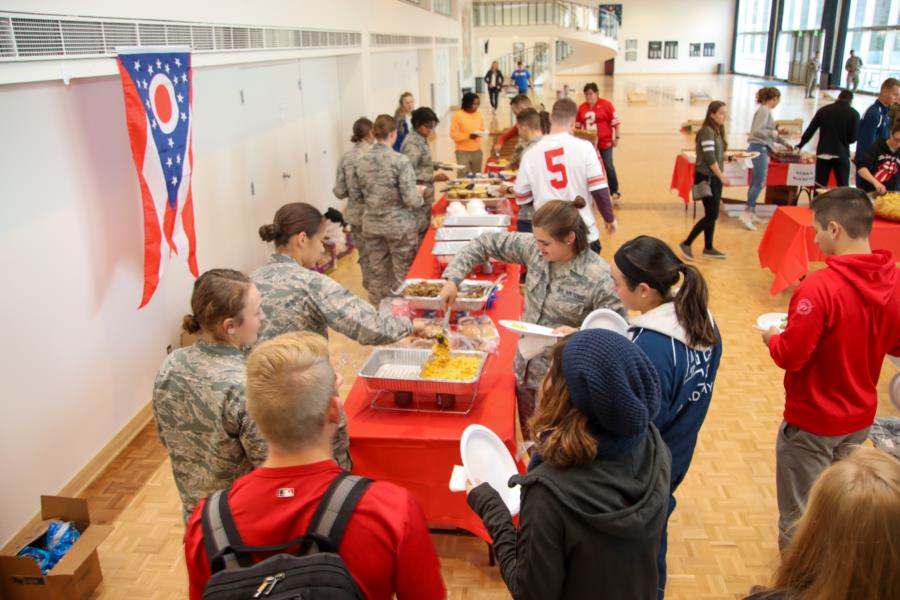 They have been extremely fortunate to have loyal sponsors from the beginning (2017) with Rocky Boots, DSW, and Skyline Chili leading the way. For the past two years, Netjets has been a major sponsor and this year, Quaker Steak & Lube joined their major sponsors. Other key corporate donors included Cleveland Indians, AmVets Dept. of Ohio Service Foundation, Cane's, Matandy, and Smales Pretzels.
All registered Cadets received an Amazon gift card, Cleveland Indians jersey, and an Ohio jumpsuit patch upon check-in. In addition, all Ohio C4Cs received a congressional flag. Cadets and their guests were introduced to their Ohio signature confectionary delight, Buckeyes! Some of the door prize raffles given throughout the evening included several pairs of Rocky Boots, DSW gift cards, Cleveland Browns official jersey, OSU jerseys, Bluejackets autographed hat and puck, Bluejackets official jerseys, OSU Brutus blow up, OSU helmet blow up, and many more door prizes from Ohio and local vendors!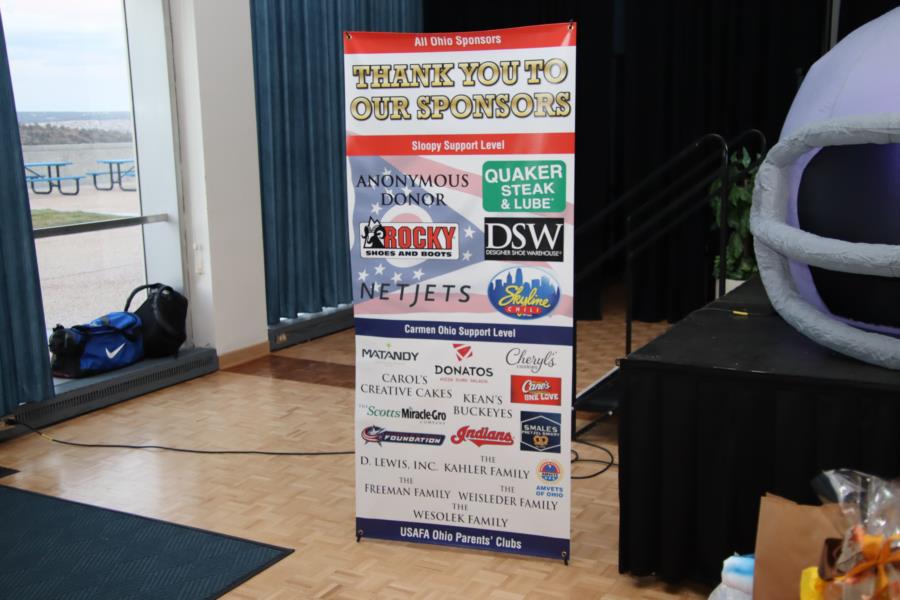 The parent organizers would like to thank all the Cadets for their enthusiasm for the All Ohio Night and their continued appreciation and willingness to help them clean up after the event! They appreciate the cadet's dedication to something bigger than yourself.
To view all the photos from this event, go to, Galleries > Extracurricular > State Nights or click the link below.