Summer Jump - 1st Period
Hey 2020 Parents! We're back with coverage from this summer's AM-490 program. Otherwise known as Jump!
This is one of the more challenging programs provided by USAFA, Airmanship 490 or AM-490 is a Basic Freefall Parachuting Program that the Academy offers and it is the core mission of the Wings of Blue and the 98th Training Squadron, all of the Cadets on the Wings of Blue team are certified AM-490 Instructors and Jumpmasters. Its purpose is to develop leadership traits through overcoming their own fears. They will be given instruction in basic free fall parachuting and familiarization with emergency parachuting. The successful completion of 5 Jumps results in award of the Air Force basic parachutist badge "Jump Wings", which they can wear on their uniform for the rest of their Air Force career and completion during summer before sophomore year fills one of the few military training requirements that Cadets at USAFA have. Several hundred Cadets over the course of this summer will have to "STAND IN THE DOOR."
AM-490 is the only program in the entire world where the first jump is an unassisted freefall. Because of this unique difference all students, cadet or staff who go through this program will have roughly 40 hours of ground training before their first jump.
A typical week down at AM-490 for the summer periods involves Ground Training from Monday to Wednesday and then first thing Thursday morning the Cadets are bussed up to Denver to experience a Wind-Tunnel and then brought back down to the Academy to begin jumping. The weather in the summer here at the Academy usually consists of windy afternoons. So we never know what will happen once we get to that first Thursday for Jumps. Thankfully each group that goes through AM-490 has 2 weeks from start to finish to achieve their 5 jumps to earn their wings. Their second week is specifically for the Cadets and Staff going through AM-490 to have multiple jump opportunities until they achieve their 5th and final jump.
We will do our best to give you a glimpse of each group going through training as well as getting their jumps in throughout the summer!
1st Period began last Monday and we were able to catch the first Group going through GT earlier in the week!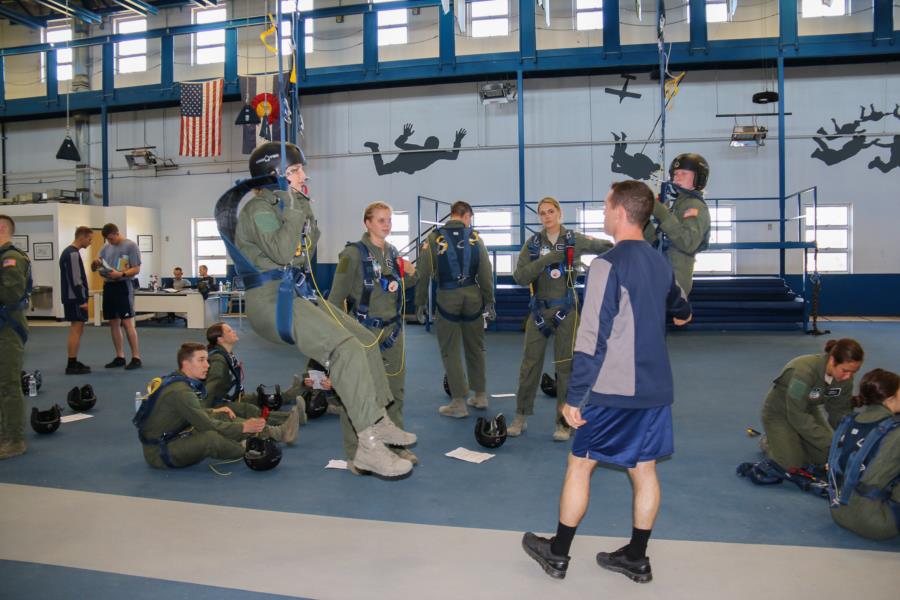 Thursday and Friday brought on wind holds which meant no jumping was possible, but finally yesterday brought us calm enough weather to allow the Cadets to jump and we were there to catch them in action in the skies!
Sadly today again has brought us more wind and from our vantage point at Doolittle Hall, we haven't seen much activity down at the airfield. We're hoping tomorrow brings calmer weather and we wish them luck with getting their wings!
The second group of 1st Period started on Monday this week and we were able to catch them during their GT while the first group was getting their jumps. For parents of Cadets who just started - be sure to check back later on this week or early next week for more coverage of those Cadets as they get their jumps!
To view the rest of our glimpse into the 2 groups currently going through AM-490 go to; Galleries - Airmanship - Jump. Or click the link below. Make sure you switch it to 17-18 Academic Year or you will be looking at last years pictures!