We're Back With Coverage From This Go's 5th Jump!
We're back with coverage from this Go's 5th Jump! This past weekend was a very busy one for AM-490 Cadets, most of them finished getting to their 5th Jump and we were there all day Saturday to catch them in action!
Click here to read some background on Jump from our earlier blog in December when these cadets were in the middle of Ground Training.
During the academic year, all classes are split into M and T days and depending on what their schedule is like will determine what day they will take a class. When AM-490 has a Saturday class, those days tend to include both M and T day groups. Below cadets are getting geared up before heading out to the plane. We were able to catch one of the Cadets getting her jump wings zipped into her flight suit, the cadets only wear these on their 5th and final jump.
The Cadets have been Jumping just about every day this week, outside of Monday which is a no Jump day and Friday last week because of bad weather. On the weekdays the M and T day students only have about 2 hours to jump during their class period but on Saturday's they have as much time as they need to complete their jumps or until 3pm, whichever comes first. Some Cadets were only on their 1st Jump while others were already on Jumps 3 or 4. By the end of the day almost everyone had reached their 5th Jump, those who didn't will most likely be finishing out during the week this week.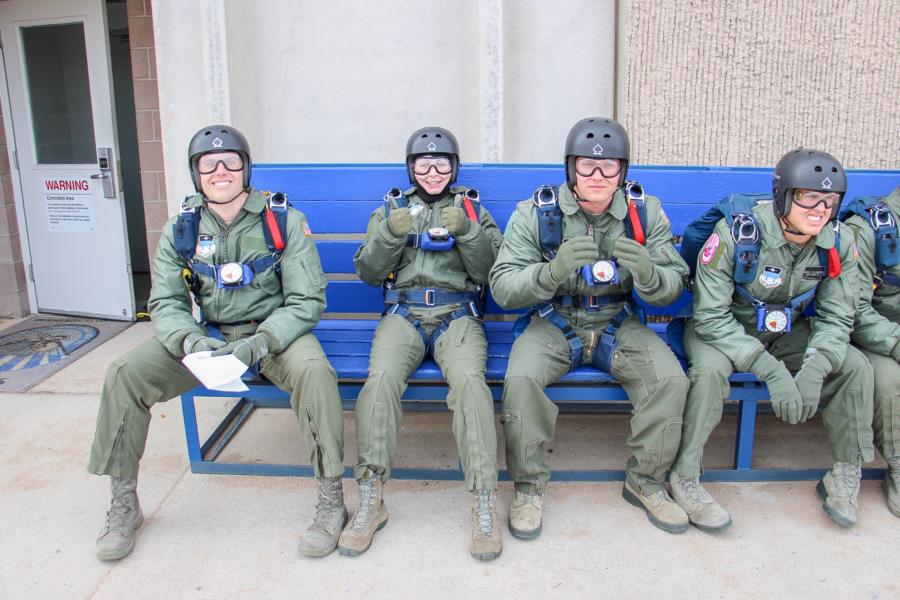 The plane happened to be turned off for refueling, so we hopped in with the group about to head up to get them inside the Aircraft!
Each jump is videotaped from the second they exit the plane through their 10 second freefall until they release their parachute. After the entire group has landed they are then all briefed and graded on the execution of their jump.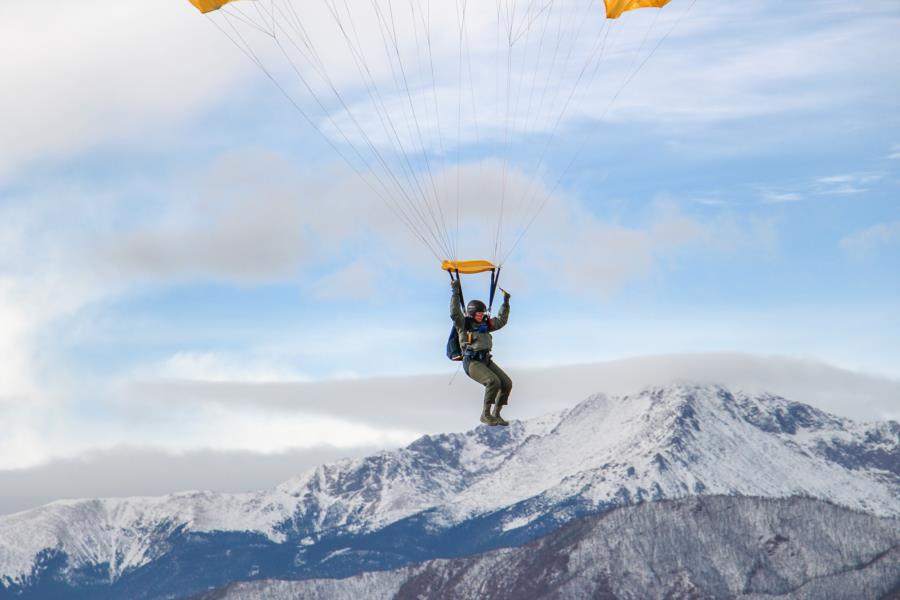 We've been able to get a lot of great shots of the Cadets right before landing in the Drop Zone.
We love when we happen to get shots like the one above and to the right, it looks like the Cadet is on Pikes Peak. It's USAFA's version of the Leaning Tower of Pisa!
As the Cadets are nearing the ground, WOB - Wings of Blue Cadets are there to help guide them and prepare them for their landing.
To view the rest of the pictures from our coverage of Jump this week, go to Galleries - Airmanship - Jump. Or click the link below.