Class of 2022 Graduation Ceremony
The graduation ceremony is held to honor each graduating cadet's successful completion of the Academy's program. It embodies both the academic ceremony of granting the Bachelor of Science degree as well as the awarding of a commission in the U.S. Air Force or Space Force.
The weather on Wednesday was beautiful and sunny with a high of 66 degrees. The guest speaker at the graduation ceremony was Secretary of Defense Lloyd Austin III. According to USAFA Public Affairs, Austin gave the commencement speech for the Class of 2022 in Falcon Stadium, speaking to 973 graduates, faculty, staff and thousands of friends and relatives.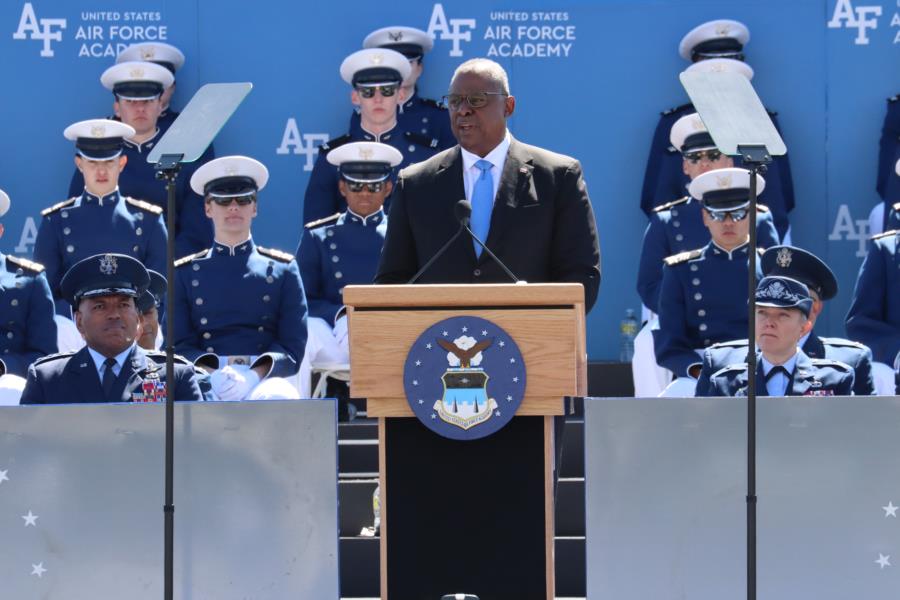 "Graduating from this Academy is hard enough without a global pandemic, and graduating after years clouded by COVID shows serious courage and behavior ... But what counts is how you respond to hard times and I'm told that during lockdown you kept this wing flying and insisted on taking care of each other. Your class motto is 'strength through sacrifice' and during a once-in-a-generation pandemic, that's exactly what you showed." Austin said, according to USAFA Public Affairs.
At the close of the ceremony, graduates were dismissed and ceremoniously tossed their caps into the air. Cheers and celebration were quickly silenced by the roar of the legendary Thunderbirds flying overhead to honor the graduating class.
WebGuy would like to thank the AOG Communication team for photographing the graduation ceremony. WebGuy would also like to congratulate the USAFA graduating class of 2022. We wish them best in their new military careers. This concludes WebGuy's coverage of the class of 2022.
To view photos from the graduation ceremony, go to CLASSES > 2022 > Graduation Week. Set your sort order from OLDEST to NEWEST. Graduation photos begin on page 228. You can also click the link below to view photos.