Class of 2025 I-Day Preview
Hello 2025 Families,
In-Processing Week is here! We are in the final stages of the countdown to I-Day. The Admissions Office is busy putting together the bags containing the in-processing packets which will be handed out on I-Day. One of the most important items in those bags are the colored ID cards that the Basics will wear during BCT. The cards are color coded to identify which BCT squadron they are in. Here's an example of Barbarians.
We know many of you are wondering what I-day will be like. As you all may have heard by now, this year will be much like last year's in that it will begin with a drop-off near the Holiday Athletic Center (HAC). We'll try to walk you through the morning, step by step. Keep in mind, that this is based on the most current information available today. Things are always subject to change, so stay flexible!
In-processing begins about 0700. That's 7:00AM for you non-military folks. Most appointees and families will enter through the USAFA North Gate off I-25 and follow the signs to the drop-off area between the HAC and the Cadet Field House, according to their assigned reporting times. Reporting times and BCT squadron assignments are now posted there for appointees who have completed all the items on the check lists. Only the appointee may exit the vehicle. They will receive a mask to wear regardless of their vaccination status.
Once the appointee exits the vehicle that is your last opportunity to see or interact with them on In-Processing Day. Don't wait till then to say your good-byes. Never fear, WebGuy will have photographers deployed at many of the in-processing stations both at the field house, athletic center and also in the cadet area.
For families, the day is not over yet. Although USAFA is closed to the general public, appointee families are encouraged to drive to Falcon Stadium for parking and to board the shuttle busses for the short trip to the Falcon Club where there will be an information fair and Doolittle Hall where the Association of Graduates and the Colorado Parents Club have organized a picnic. More about that later in the blog.
For the appointees it is the start of a long day. Note: Some of these photos were taking during earlier years, hence the lack of masks, but you get the idea.


Much of the early in-processing takes place in and around the Field House and Athletic Center. There will be screening for COVID and a stop at the Admissions table to check in and pick up their Appointee Packets including the ID lanyard with their name and squadron information, including their BCT squadron color. They will wear these ID badges throughout BCT. You will be thankful that they do, when you see them all in uniform. We all use the badges to identify the squadron we are photographing. We sort our photos into galleries by squadron during BCT to make your search easier but, keep in mind that this is not always the case, due to the nature of the activity. The two appointees in this photo below are an Aggressor and a Barbarian. Here is a simple chart to help you identify each squadron by color.
Moving on with in-processing, after they pick up their appointee packets. These contain all the forms and documents that were generated from the many checklist items your appointee had to complete. There is a station to get the combination to their post office box. They also have an amnesty box where they can turn in items like fake IDs without any consequences.


There are more stations for medical, and legal. There is alot of waiting in line, but there are also stations with protein bars and energy drinks to keep them hydrated. Then it's time to take the Oath. This is the real one. Later in BCT they will take it again as a class and we will have photos of that. From this point on they are no longer an appointee. They are Basic Cadets.
And it's time to head out the door for the bus ride to the cadet area where the rest of in-processing will be completed and the cadet journey will begin.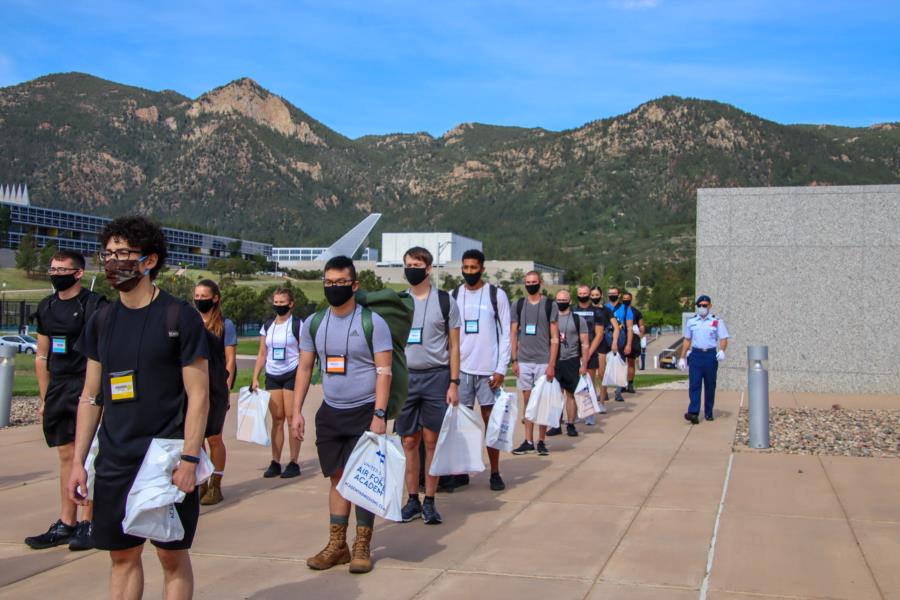 Once they get on that bus, the training cadre are waiting to greet them. For the Class of of 2025 those footprints will be painted silver (their class color).
There are many more steps ahead for them during this first day, (which our photographers will cover), but this is just a preview. You will see your basics in those on I-Day.
As we mentioned earlier, there are, however also activities for families including the info fair in the Falcon Club. Your next stop after drop off should be Falcon Stadium to park, then the FAMFEST hosted by the Colorado Parents Club and the Assn of Graduates at Doolittle Hall. Buses will be provided by the Academy in order to get you from place to place.
Below is a a short video about that event. That's it for this blog entry. There will more to come between now and I-Day, so check back often and also be sure to like and monitor our WebGuy Facebook page. Here's the link. WebGuy Facebook. We use Facebook to keep you informed about whats going on over here on this website. Once the Class of 2025 arrives there will photos and blog entries every day, so check back often.
The AOG Gift shop is open all this week from 0730-1630 at Doolittle Hall.
See you soon!