Steel Script - A Night In Poetry
Recently we attended a showcase by the Steel Script, which is a brand new group this year. They had their first showcase at the end of October and we had the opportunity to attend it!
There are currently 10 members on the Steel Script troupe, and 3 members on the poetry team. The troupe's performing members include; C4C Aidan Ascio, C4C Amanda Berry, C4C Sean Chieves, C3C Kyle Floyd, C4C Makayla Gilliam, C1C Montrea'l Johnson, C3C Katie Kohler, C3C Bri Murray, C1C Cydnee A. Reese and C4C Margo Sweat. The poetry team includes: C3C Veronica Dodds, C3C Gabrielle Pinson and C3C Rachel Russel. There are also many supporting roles as well including the Stage Knights, these cadets act as stagehands for the shows and special assistants. All in all this troupe, while brand new has a big involvement from cadets and is a new fresh way for cadets to communicate with each other.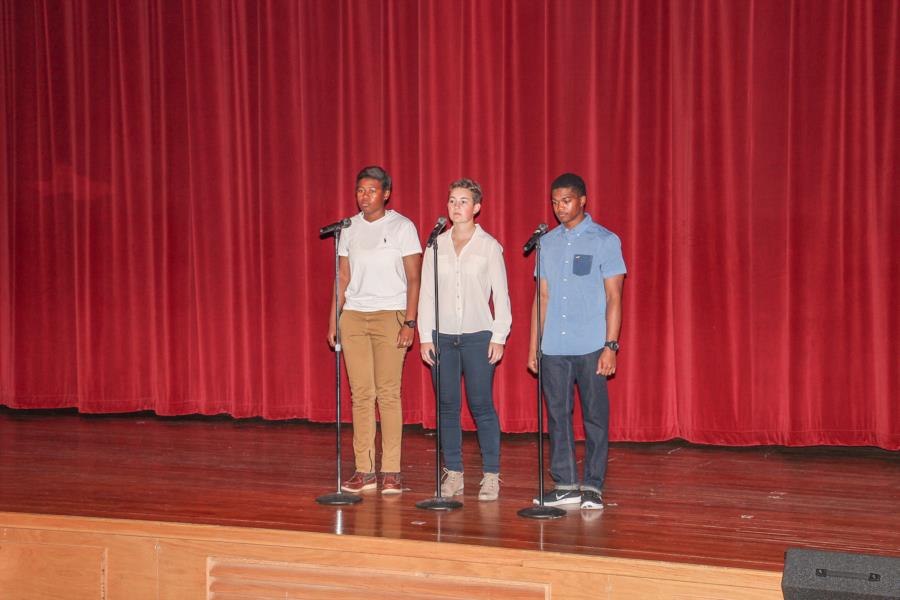 Below is a video of the entirety of their first showcase, at 23 minutes 34 seconds begins a skit they created to make the audience think. Viewer discretion is advised before watching, so please read below. If you have questions/comments after watching of the skits from this showcase, C1C Cydnee Reese can be contacted here.
"The scenes that are about to follow do not necessarily reflect the opinions or beliefs of the poets of Steel Script. This is an expression of art and a display of perceptions that are very real in the world."
To view the rest of the pictures from the Steel Script - A Night In Poetry go to; Galleries - Extracurricular - Cadet Clubs. Or click the link below.