3rd Period ILT Charlie
3rd Period ILT, Charlie, wrapped up their portion of the ropes courses over the last couple of days.
Summer 2021 training for three degrees is executed by Cadet Wing Training with support from Center for Character and Leadership Development (CCLD). The course is entitled Interpersonal Leadership Training referred to as ILT. This program is an expansion on the 2019 summer ABL program. Three-degree cadets(Class of 2024) will take various academic courses that focus on emotional intelligence, growth mindset, innovation, addressing morale, ethical dilemmas and processing the experience.
The Outdoor Leadership Complex is just part of this ILT experience. Following class content rising three-degree cadets will participate in an 8-hour ropes course experience that includes low ropes team development activities and high ropes individual challenge activities with team support. Cadets at the ropes course will be asked to apply what they have learned in their academic classes to team cohesion and problem solving. The ropes course experience helps prepare the cadets to mission plan, work together, problem solve, use of resources, and application of emotional intelligence within their team, to implement in a 44-hour team challenge.
In addition to the three-degree experience the cadre, upper-class cadets, are responsible for the facilitation and leadership of the ropes course experience. They receive extensive training on facilitating low to high-risk activities, technical skills, application of emotional intelligence, and integration of the Leader of Character Framework. Then lead the three-degree cadet element teams through their ropes course experience, guiding them through the experience, creating space for reflection, debriefing, and application of learned concepts beyond that activity into upcoming challenges and into cadet life.
LOWER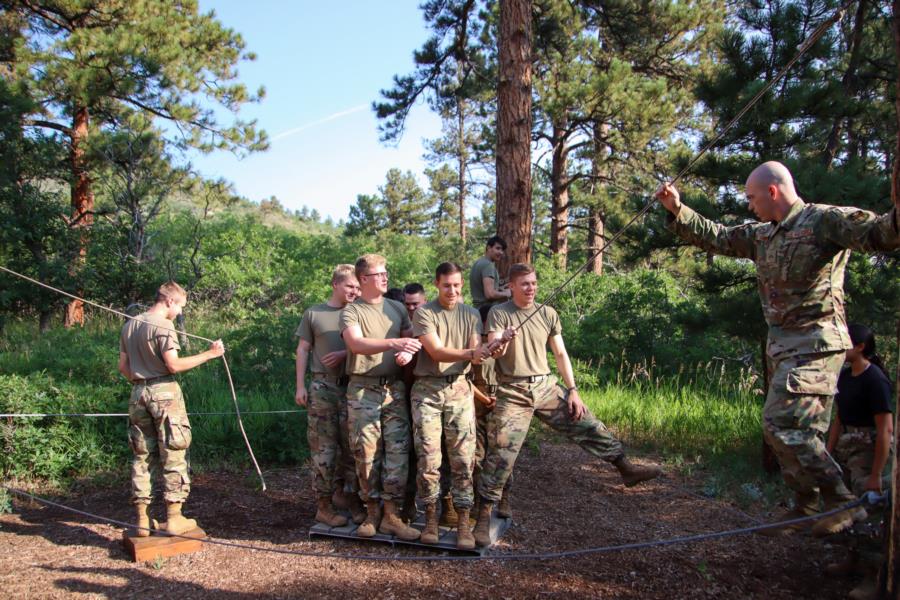 UPPER
This wraps up our WebGuy coverage of this year's Class of 2024 ILT Rope Courses sections of the program.
To view the photos of 3rd Period, Charlie Flight, go to GALLERIES, MILITARY TRAINING > ILT, sort photo order to OLDEST to NEWEST or click the link below.