Florida Sunshine Night
The Academy welcomed the Florida Parent Clubs this week with their 1st Annual Florida "Sunshine" Night. "
They had parents in attendance from the Gulf Coast Parents Club, South Florida Parents Club and their Central Florida Parents Club. Phil Phillips the President of the Florida Gulf Coast Parents Club said, "Florida Sunshine Night has been an exciting project for our Parent Groups of Florida", and that it is their hope this will become an annual event that, "will bring some Florida Sunshine out to Colorado Every Year!"
There were over 400 Cadets in attendance over the course of the evening in Arnold Halll! Every Cadet received a Florida Night t-shirt, with many types to choose from! Along with this they were also able to choose from hundreds of other items including hats, FloGrown Shirts and beanies, scarfs, Tervis Cups and numerous Florida memorabilia.
The food prepared for the evening had some Cuban Flair. With Pulled pork, Black beans and rice, salad, plantains, and Key lime pie for dessert along with tresaleche and flan.
Sponsors for the event included, FloGrown and Ron Jon Surf Shop of Clearwater Beach. Not to mention about another dozen corporate sponsors and all of the Parents across the State of Florida who also contributed to make this a special evening.
Games and trivia were happening throughout the evening giving Cadets the opportunity to win other major gifts. Such as Mickey Mouse Invicta Watches, a Fitbit, 2 signed baseballs by Hall of Famer Wade Boggs, a Tampa Bay Football autographed by the whole team of 2017 Season, 3 Piece luggage set, American Flag Humidor, Sighed Hockey Puck from the Panters, 2 ski goggles, 1 box of cigars, over $200 dollars in gift cards and they even had a Cash Grab Booth which was a big hit, with $1000 in cash to give Cadets a chance to win a couple extra dollars.
Enjoy the clips below of some of the fun ways Cadets won prizes!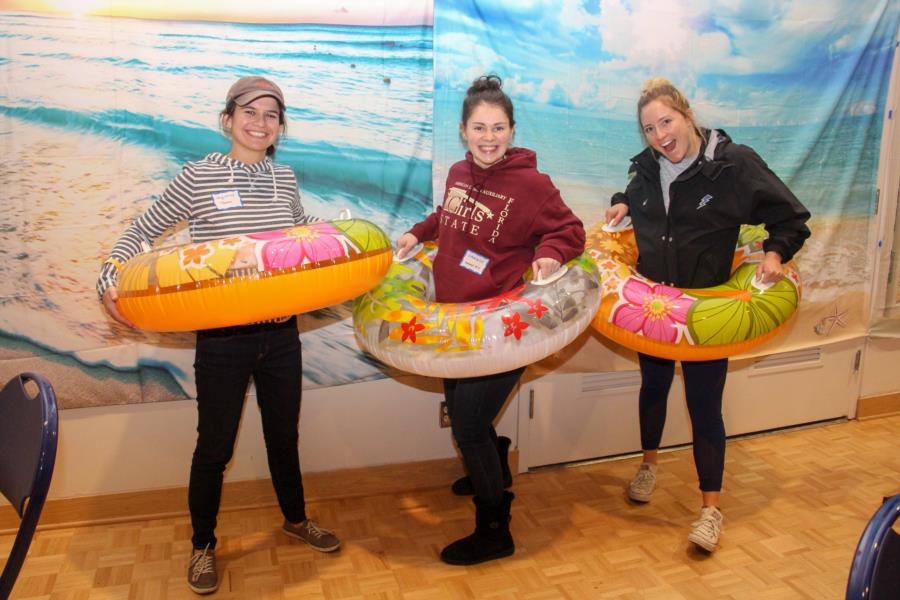 "We the parents of the Cadets want them to know we are doing this for them and that we are proud of all of them and support them at all times. We wish the 1st degrees great success and congratulations on graduation that is just around the corner. Our Prayers and Best wishes are with them."
- Florida Gulf Coast Parents Club President Phil Phillips
We can't wait to see the Florida Parent Clubs back here next year for the 2nd Annual Florida Sunshine Night!
To view the rest of the pictures from our glimpse into the evening go to; Galleries - Extracurricular - Special Events. Or click the link below.