Soaring AM-251 Summer Session
During the summer before their third-class year, they can enroll in Basic Soaring (AM 251), which consists of 14 glider sorties with the opportunity for a solo flight (depending on proficiency). Approximately 330 cadets participate in the Basic Soaring Course. Basic Soaring graduates are eligible to apply to become Cadet Soaring Instructor Pilots (AM 461). Cadet Instructor Pilots conduct 95% of all glider flight instruction and go through a yearlong upgrade program during their third-class year to become Instructor Pilots (IPs). This earns them their G-Wings and the title of "Youngest IPs in the Air Force". Some Cadet IP's compete nationally in aerobatics and sailplane racing team competitions. The squadron operates 24 sailplanes (gliders) with 7 tow aircraft.
The 94th Flying Training Squadron conducts more than 20,000 training and competition glider sorties (flights) each year with the focus being on developing officers, leadership and character. There are also Instructors getting flights to keep current or doing upgrades. Most instructors are cadets, but there are also Active duty or Reserve that instruct as well.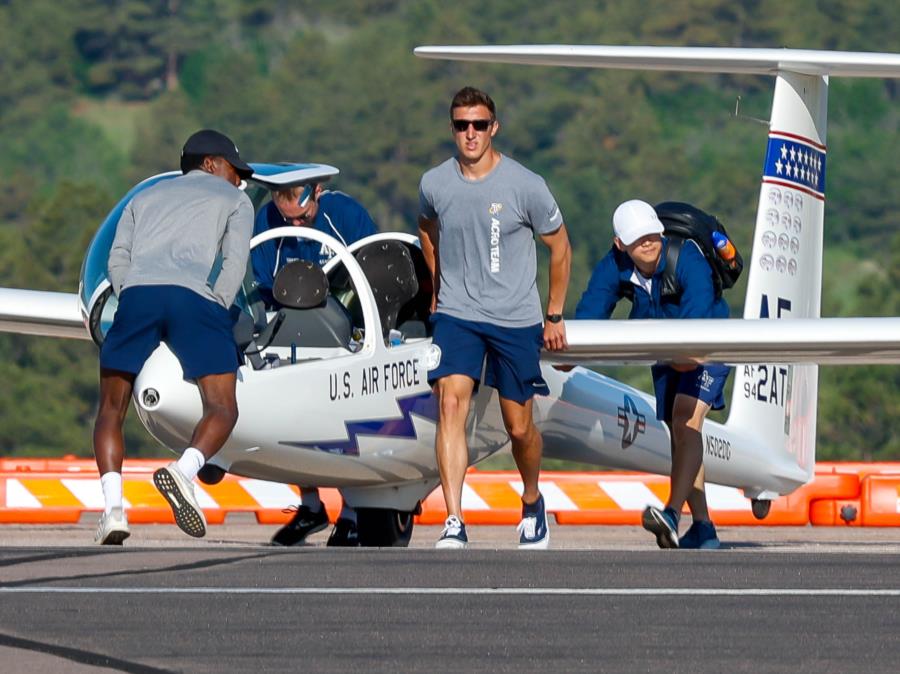 The runway nearest the artificial turf landing area is currently being worked on. Which means that the tow planes and the gliders are taking off from the middle runway and the tow planes are taxing for position in areas that they normally do not cross. What this meant for WebGuy was that we were unable to get as close to the students and gliders as we normally would have and we had to photograph from the other side of the runway (opposite of the artifical turf where we normally photograph from). Although a zoom lens was used, the distance was significant resulting in photos that aren't as clear as we would have liked. But hopefully they are good enough that you can find your cadet and get an idea of what their flights are like.
Students are seated in the front of the glider with the instructor directly behind them. Student and Instructor both have a full set of controls which allows for hands on learning and instruction.
Once the glider is positioned on the runway, the rope from the tow plane is connected to the glider. The rope is inspected by the student and IP and hand signals are used to let the student and IP know that the plane is hooked up properly and ready for takeoff.
Webguy was able to capture a few students completing their solo flight and receiving their Soaring Wings. And we caught one cadet getting tossed into the water tank, a tradition after soloing an aircraft.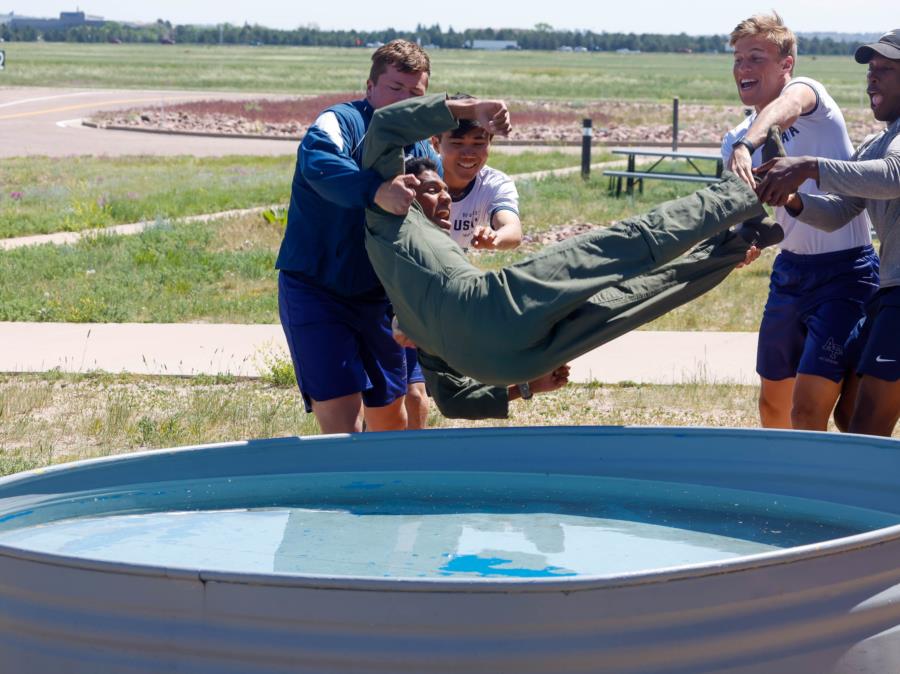 To view photos, go to GALLERIES > AIRMANSHIP > SOARING. Set photo order OLDEST to NEWEST. Select your start page (1-22) or click on the link below.