Indiana State Night
The Indiana Parents' Club hosted their 1st Annual Indiana State Night for their cadets Monday evening. There were 55 cadets from Indiana and another 80 guests and international cadets. The Indiana parents' club was inspired to do their own state night after talking with other parent club presidents and seeing pictures from other State Nights.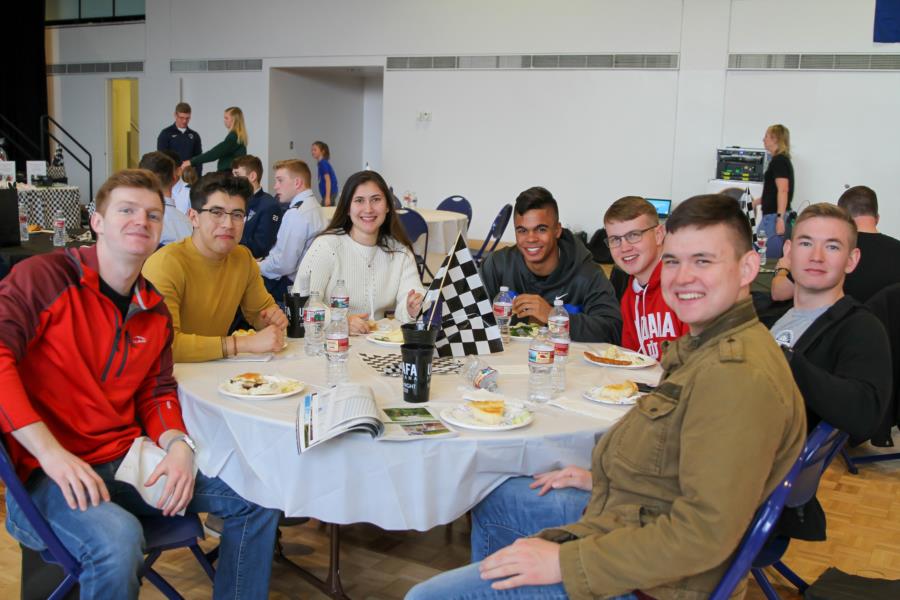 Cadets were treated to Pork tenderloin sandwiches (every restaurant in Indian makes a tenderloin!), fried chicken, biscuits and apple butter (fried biscuits with apple butter is a stapler in Indiana), Mac and cheese, green beans, slaw and sugar cream pie for dessert (official State pie of Indiana). There was also a Kona Ice station where multiple flavored ice options were available. The cadets enjoyed having time with friends while enjoying the taste of Indiana cooking.
A Indiana Trivia Game was played during dinner and it was entertaining to see some history about Indiana.
There were also fun games for the cadets to just have some fun. Some of these games included: Tap the Cup toTtrap the Cup and Minute to Win It.
A raffle was held, and many items were gifted to the cadets. Some of the items raffled were Ray Ban sunglasses, restaurant gift cards, speakers, a movie projector, clothes, dart boards, poker chip sets and a pop-a-shot basketball game. Each cadet also received a goodie bag when they first arrived.
Thank you to the 18 parents that came out to USAFA for Indiana State night and to another 30 or so who donated money.
Thank you from the Indiana Parents' Club to the sponsors and donors for this event which included American Legion, Wick's Pies, Albanese gummies and many more.
The Indiana Parents Club stated that 'Indiana is incredibly proud of all our cadets and appreciates the amazing opportunities that the Academy Leadership provides them.'
To view all the photos from this event, go to, Galleries > Extracurricular> State nights or click the link below.