Ring Dining Out Pictures Are Up!
Ring Dining Out for the class of 2017 was this past Friday and we were there to capture your Cadets receiving their rings!
We know you are just dying to see the pictures but before you do, how did this Tradition start?
The American college tradition of the class ring began with the class of 1835 at the U.S. Military Academy. From there, it spread to the U.S. Naval Academy in the class of 1869. The Air Force Academy continued the tradition, beginning with the first class, 1959, and so is the only service academy to have had class rings for every class since its founding.
The Air Force ring is distinctive for being white gold instead of the yellow gold used at the other academies. Each class designs its own class crest; the only requirements being that each crest include all the elements on the Class of 1959's crest: the class number, the class year, the Polaris star, and the eagle. One side of the ring bears the academy crest, while the other side bears the class crest; the center bezel bears the words United States Air Force Academy. Cadets choose their own stones for the center of the ring. The rings are received at the Ring Dance at the beginning of the Graduation Week festivities for the class ahead of the ring recipients. The rings traditionally are placed in glasses of champagne by the cadet's date and are caught in the teeth following a toast. The cadet then passes the ring to the date during a kiss, and the date slips the ring onto the cadet's finger.
During the cadet's first class (senior) year, the ring is worn with the class crest facing the wearer; following graduation, the ring is turned so that the class crest faces out. The rings of all the academies were originally designed to be worn on the left hand, so that the wearer reads the name of the academy on the bezel while a cadet or midshipman and others can read it after graduation, but the rings are now worn on either hand (usually the right).
The Academy's Association of Graduates (AOG) accepts rings of deceased graduates, which are melted down to form an ingot of white gold from which a portion of all future rings are made. Both the academy's Association of Graduates and the Academy Library maintain displays of class rings.
Here are some highlights from the evening!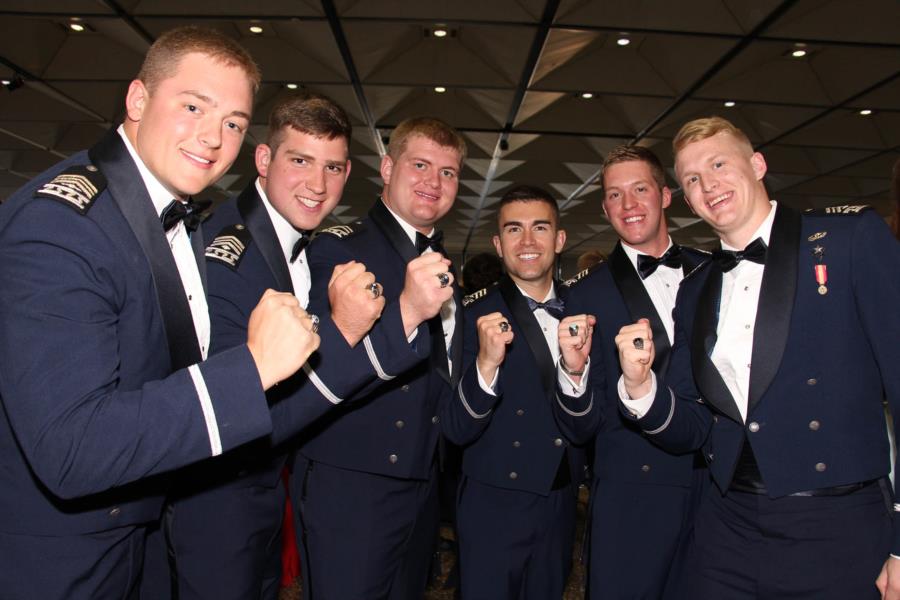 To view the rest of the pictures go to, Classes - 2017 - Ring Dining Out. Or click the link below.