New Mexico Night!
USAFA recently welcomed the New Mexico Parent Club with their 6th Annual New Mexico Night.
The ballroom was decorated in New Mexico themed decor; paper hot air balloons in vases on each table, luminarias on the stage and NM flags, aliens and posters throughout.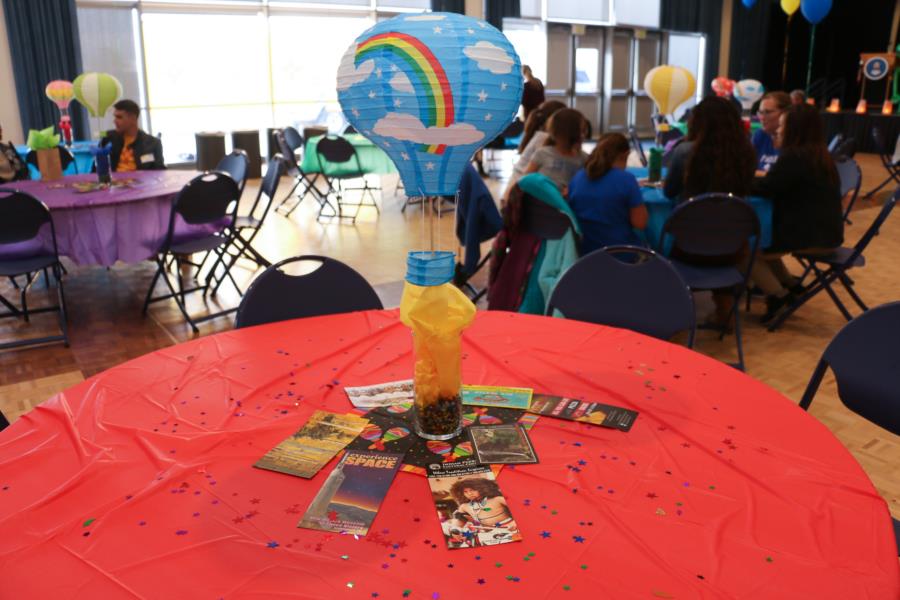 New Mexico Night had about 100 people in attendance, with 35 New Mexico cadets, 50 of their guests guests and 20 parents/kids.
At check-in each Cadet received a bag with; 1 Salsa, 2 Chile (Red/Green), Chips, Tortillas, Biscochitos, Mints, Key Chains, NM Magnets, Small Plate Gift Certificates @ California Pizza Kitchen and each of their guests also received a bag with chile/salsa.
The dinner was catered by Little Anita's, a New Mexican restaurant located in Denver and the meal consisted of chicken and cheese enchiladas, tamales, beef tacos, beans, chips, guacamole and sopapillas. Which was all delicious!
Each New Mexico cadet received a raffle ticket for one of the bigger items that were raffled off at the end of the night. And they were able to earn more tickets during the New Mexico trivia contest held during the dinner. 8 New Mexico flags were also raffled off to the New Mexico cadets and 3 blow up aliens and some gift bags to their guests.
The items that were raffled off were fantastic and primarily from local Albuquerque businesses or pueblos (Isleta, Santa Ana):
The Larger items were;
Albuquerque International Balloon Fiesta Bundle: Poster, 4 admission passes, Sweatshirt, museum passes, key chain ($250)
Casa Verde Spa and product package ($350)
Gertrude Zachary bracelet ($300)
4 VIP Seats at Isleta Concert ($700)
Kim Jew Session + Portraits ($500)
VIP Suite for an Event-14 Guests at Santa Ana Star Center ($700)
Zip Line Adventure @ Royal Gorge Rafting ($100+)
Additionally each cadet was called up in groups of 5 to choose a smaller gift from the list below;
2 Passes for Soaks @ Bettys
2 admission passes, Fun Card ($25) + Monkey @ Cliff's
$25 Gift Cards (4 of them) @ Cocina Azul
$10 Gift Cards (3 of them) @ Dion's
$25 Gift Cards (2 of them) @ Garcia's
Isotopes Memorabilia/Tickets - Bank, Scarf, 4 Tickets
$25 Visa Gift Cards (4 of these)
$15 gift cards and sweatshirt @ Modern Market
$25 gift cards (2 of them) @ Monroe's
NM Pinon Box - Coffee, Hot Chocolate, Pistachios
$20 Gift Cards (2 of them) @ Nexus Brewery
$25 Gift Card, hat, coupons, shirt @ Celtic Brewery
$15 gift cards (5 of them) to Rudy's BBQ
$50 Gift Card @ Ten Thousand Waves
$25 Gift Card @ the Range
$25 Gift Card @ Freight House
$25 Gift Card @ Skirted Heifer
Brow Wax+Tint @ Waxing the City
3 Movie Passes @ any theater
Plush + USAFA M&Ms
$20 Google Play Card
4 passes to Meow Wolf
$20 Subway Gift Card
USAFA Puzzle
$20 Starbucks card + SB Mug
We can't wait to see the New Mexico Parent Club back again next year!
To view the rest of the pictures from New Mexico Night go to; Galleries - Extracurrciular - Special Events. Or click the link below.