Heritage Tours
Hello Families!
Blog #2 for today. Hope you found the A-Day info helpful. Today was spent in Element & Flight level groups taking the Heritage Tour led by their Cadre to give meaning to the iconic areas and monuments of the Cadet Area which they will pass by daily as Cadets for the next 4 years. They will revisit these areas during Recognition, but today was meant to really see and hear about them in a relaxed setting. Below are a few photos of the tour.
Some Basics got their new computers. As you can also see, they look much more relaxed.
The other major activity today and tomorrow morning is BCT Capstone. These lectures take place in both Arnold Hall & Polaris Hall and are intended to tie everything they have been taught so far together. Below are photos taken in each location last year to give you an idea.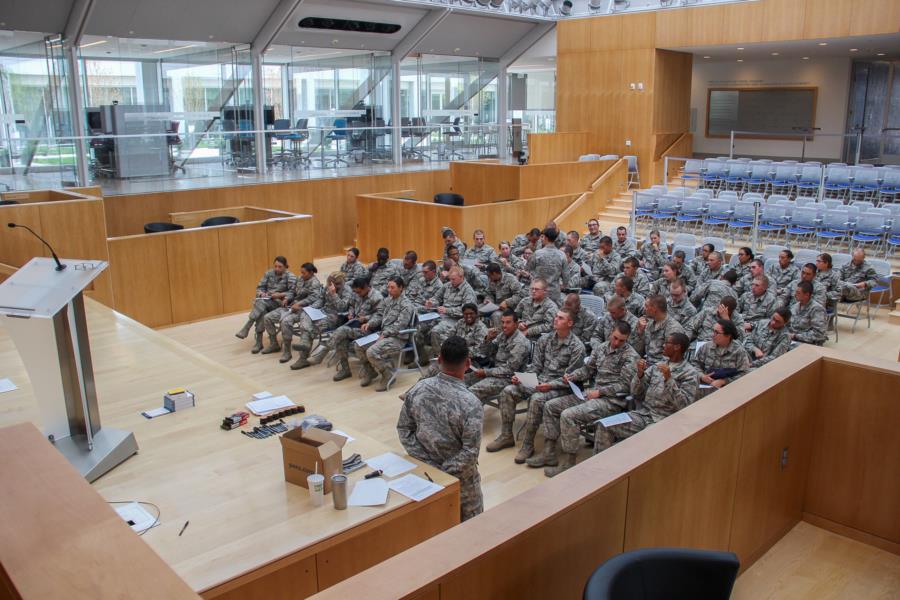 By now, you have had a lot of photos of your individual Basics. Today's photos will give you an overview of what the Basics did today. There are lots more photos in the BCT2 squadron galleries, so some of you may still catch a glimpse of your Basic if they are in Executioners, Flying Tigers, Guts, or Hellcats.
Tomorrow's big activity is the Commandants Luncheon and the BCT2 Awards Ceremony. We will of course be there to cover that and the photos will be up in the BCT2 gallery tomorrow evening. We will also cover the Heritage Tours for Aggressors, Barbarians, Cobras and Demons. Tomorrow evening after dinner they will move into their academic year squadrons. They will stop being Aggressors, Barbarians, etc. and become members of Mighty Mach One, Barnstormers, Phantoms, or one of the 37 other cadet squadrons. Most will only occasionally use the squadron nickname. Most will just identify by their squadron number, as in "I'm in 24". They will share this change with the Class of 2019 who will also be moving into new squadrons. 2nd Class Cadets (Juniors) change squadrons after the first 2 years in a rite of passage called the "Squadron shuffle". They will assume leadership roles in their new squadrons much like officers in the Air Force do when they change bases every 3 years.
The rest of the Cadet Wing will be returning on Saturday, so the Academy will be a busy place once again. The main activity for the Basics will be Accemptance Parade practice. (This is not open to the pubic).
Sunday will be another busy day. Worship services for those who want to attened will be in the morning. After lunch, there are more briefings on things like traffic safety & flag decorum. After having their every move directed by their Cadre, part of the transition briefings deal with managing themselves again. They will have more clothing issue, and will start to get their computers which continues over several days. (Imagine the logistics of getting 1100 laptops up and running with all the software necessary to start college). After dinner on Sunday there are auditions for Cadet Chorale, & Drum & Bugle Corps. To make it even crazier, they are all still Basic Cadets, so they have to be escorted by an upper class cadet everywhere they go.
Monday the main activity for the returning Cadet Wing is the Acceptance Parade practice. The Basics will be getting their dorms in order plus miscellaneous individual appointments, & laptop issue and set-up. For those of you with children in civilian colleges, just think of all the items that needed to be accomplished before starting classes. That's what your soon-to-be C4Cs will be doing over the next several days.
Tuesday is (TA DA!) Acceptance Day, A big day for all of you, but the main activity for your soon to be C4C's after lunch is meeting with academic advisors and getting all their courses sorted out. The good news here is that there is no wait list or adding of classes stress. All the testing they did at the beginning of BCT has helped get them placed in the necessary courses. 4th Class cadets all take pretty much the same courses. They also have more clothing issue, they have to buy their texbooks, drum & bugle practice begins, there are also briefings, briefings, & did I mention, briefings.
Wednesday is more of the same, and classes begin on Thursday.
So there you have it. I know there are lots of questions. When do they get their cell phones? What about A-Day packages? What should I bring them on A-Day? Honestly, the answers are different depending on each Cadet. My advice is to keep it simple for now. If your Basic has made requests in their letters, than follow those. As you can see, they will have a lot on their plates. Don't complicate things for them right now in your attempts to be helpful. They will tell you what they need. Most everything can be worked out between now and Parents Weekend in 3 weeks.
I posted the blog about Acceptance Day this morning. I am betting that your Parent's Clubs and various on-line groups have already briefed you way more than I can, but as I mentioned there, I hope my info was helpful. The big changes from previous A-Days are where you are allowed to eat and the fact that there a no shuttle busses running. The WebGuy photographers will be taking photos at the parade and at the tailgates after. We are all looking forward to seeing you and saying hello. Well most of us are. Which brings me to my last couple of points.
First, our BCT coverage is almost at an end, but now we begin our coverage for the Academic Year. There will be so much more to see. We will be telling you more about that after Acceptance Day. Just don't think you are finishing "WebGuying". You'll just be visiting us a bit more casually.
Now, to my final point. Actually, this is not only my final point, it is also my final blog entry (for this summer). I began meeting and speaking with many of you starting with your Appointee send-offs around the country in May and June, then seeing many of you as you passed through Doolittle Hall on I-Day. It has been my honor and pleasure to visit with you via this blog every evening. I hope you have enjoyed reading it as much as I have enjoyed writing it.
Now, that doesn't mean that the blogging will stop. On the contrary, we are just getting started. I will still be putting in my two cents from time to time, but the main blogging responsibility will once again revert to WebHatter who has been your host on our Facebook page plus the Summary Sunday and all the upper class training coverage all summer. She also leads the day-to-day WebGuy program all year round. She will have the Con starting tomorrow and you are in good hands.
I am sneaking off on a Caribbean Cruise with my family tomorrow, so I will miss seeing you all in person on Acceptance Day. I'll be back rested and probably sunburned for Parent's Weekend.
It goes without saying that none of this magic could happen without the talent and countless hours put in by the entire WebGuy Team. So, here's to Kelsey, Karina, Jason, Kaden, Tristan, Kayla, Fran, & Toby, and yours truly. I tried to get them to pose for a group shot, but they all prefer to be behind the camera rather than in front of it.
Ok, that's it for me. Check back tomorrow for more coverage. Have a great evening and I'll see you at Parent's Weekend!