Food and Other Thoughts!
Happy Tuesday Friends!
Now that BCT and Upper Class summer programs are well underway and as we prepare for the entry of the USAFA Prep School Class of 2020 next week, a few thoughts come to mind (in no particular order). First, on behalf of all here who bring the WebGuy program to life, our photographers, bloggers, photo editors, & IT staff, I would like to offer our sincere thanks for your continued support and good will towards this unique program. Each summer brings it's own unique challenges and this one has proved to be no exception. We work really hard at keeping everyone happy. You, the Academy Cadet Wing, Public Affairs, & the lawyers (to name a few). We live by the adage "Flexibility is the Key to Airpower", so we thank you for yours as well.
Having said that, this is now my shameless solicitation for food and goodies! Nothing motivates us to take more photos and edit them at midnight than those delicious treats from across the country. Our photographers love the baked goods or something representative of your state or region. Some of it can even be healthy, lol. Here is a representative photo from past summer's contributions.
Just in case you feel like contributing, here is our mailing address. :-) '
WebGuy
USAFA Assn of Graduates
3116 Academy Drive
USAF Academy, CO 80840
I have also been asked by our crack WebTeam (pictured below) to tell you that under NO CIRCUMSTANCES should you send SKITTLES. Two years ago I mentioned that I liked them, and I think we got cases of them. I am still hearing about it from them, so Nada on the Skittles.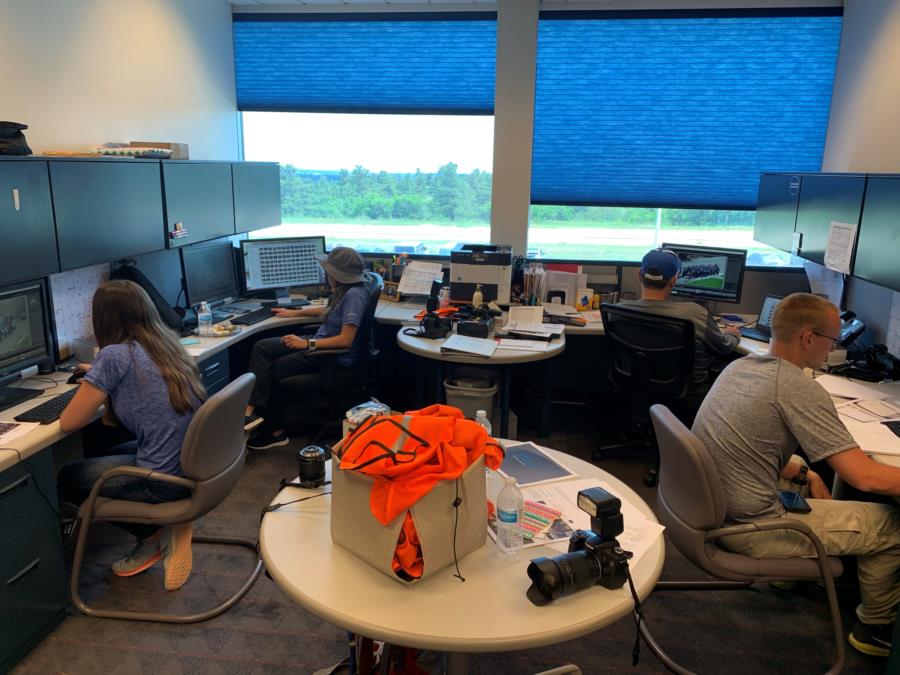 On another note...
As some of you already know (or will now), I follow the class Facebook groups. Since our primary goal is to educate, it's helpful to know what you are thinking and asking in order to provide you the best service we can. I saw this post from a 2023 parent last night and asked her permission to re-print it because it is spot on and captures exactly what BG Edmonson meant at the Swearing-In Ceremony when she said "We'll take it from here".
"I just want to give the mail process a little support and share my perspective, and hopefully share some encouragement. The AFA has 1100 plus Basic Cadets with several letters flooding in for each of them, every single day, that need to be sorted through and distributed. That's A LOT! I know it's heart breaking to hear that our Basics aren't receiving letters yet, but these young men and women are the best of the best in the country and abroad. They are more resilient than we think, or they wouldn't be there. They are being trained as OFFICERS and I whole heartedly, 100%, believe that they are stronger than their letters home represent, they just don't know it yet. They just don't know it yet! I believe this is the time, gulp, that they should start to drift from needing so much support from us and begin to depend on each other. They're all going through it together and we can't even imagine, no matter what they tell us in a letter, what that is truly like. I would encourage you all, and I am also telling myself, to have faith in the system and trust the process. They will get what they need, exactly when they need it. Let's give our kids the credit they deserve, and believe that they will find the support they need right where they stand, and take comfort in that. In an age when we can click a button and have a COUCH delivered to our living room the next day, I think we have grown impatient with regular mail. Well, I speak for myself here. It's agonizing, and the crossing of mail? Ufff! How did we ever survive before email?! Ha! There's a reason we call it snail mail, remember? Maybe if we stop expecting and start accepting that we are imperfect people wanting perfection, we might just survive BCT! AND HOW LUCKY ARE WE THAT SOMETIMES WE EVEN GET TO SEE A PHOTO OF THEM?! You couldn't even get that at a civilian college and it sounds like any other military academy. It will all work out, and at the end of BCT we'll all laugh at ourselves for how neurotic we are being right now, and our cadets will make fun of us for over doing it on the letter writing! 😁 Gentle hugs to you all. WE GOT THIS!"
She's right! You all GOT This! And so do your kids! Hang in there! This day pictured below will be here before you know it!