USAFA K9 Unit demonstrated their skills to CS-08
Every day, seven loyal 10th Security Forces Squadron Airmen use their superior senses, instinct, strength and intelligence to keep everyone here out of harm's way. They train to enhance their skills, deploy, and appreciate a generous petting or rubber toy in return.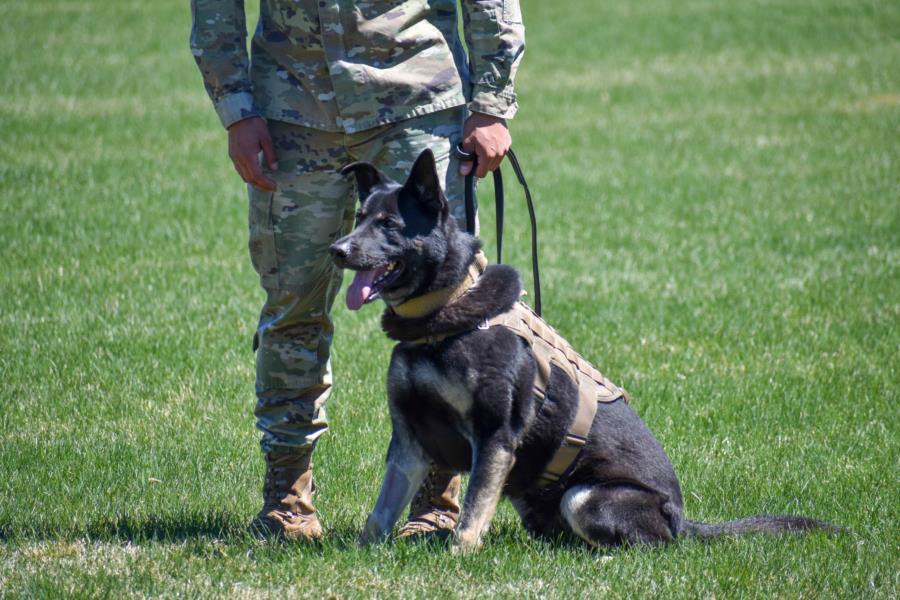 Academy military working dogs patrol alongside their 10th SFS handlers, searching buildings and sniffing-out drugs and explosives to keep cadets, staff and base residents safe around the clock.
The Academy's MWD staff consists of one kennel master, one trainer, eight handlers, one drug and patrol dog, and six bomb and patrol dogs. It's a 24-hour operation and each canine is assigned to a handler. Military working dog teams here work 10-hour shifts for six days followed by a three day break.
The Academy receives the dogs from the 341st Training Squadron at Lackland Air Force Base, Texas, when they're about two years old. The puppies go through initial tests and evaluations to determine whether they'll be a good MWD before they begin their 120-day-training-for-certification process. During this time, the dogs are taught basic commands such as sit, down, heel, a recall command, bite command and detection command. Military working dogs assigned to narcotics are trained to detect five different odors, and bomb dogs search Falcon Stadium before graduation and every football game to make sure it's clear of explosives.
CS-08 had the opportunity to see two of the canines in action and it was impressive! Two cadets were selected to participate and were "the person to detain". I am sure that no matter how much protective gear one wears, there is still a moment of adrenaline and anxiety as they see the canine released and they are chased! Thankfully the canines are well trained and "release" on command.
After performing their duty, they love getting praise and love from their trainer and handler for a job well done!
All photos in the blog and the WebGuy site is from CS-08 Cadet Alejandro Pickart. WebGuy was fortunate to have him share his photos with us. Enjoy!
To view all photos, go to Galleries > Extracurricular > Cadet Life. Set photo order OLDEST to NEWEST. Select start page (33-38) or click on the link below.