Jump Aerial Fall 2021
This week WebGuy was out capturing the first jumps for this class of Jump 490. Tuesday ended up getting cancelled due to winds coming over the mountains from the west and causing too much turbulance. The photo below shows the clouds building up around Pikes Peak. Thankfully the weather cleared up the next morning and Jumps began!
As stated in the Jump Ground blog, Airmanship 490's purpose is to develop leadership traits through overcoming their fears and coping with stressful situations. The program starts with 30 hours of instruction in basic free fall parachuting technique and procedure, to include emergency situations they may encounter when jumping. The successful completion of 5 Jumps results in being awarded the Air Force Basic Parachutist Badge "Jump Wings", which they can wear on their uniform for the rest of their Air Force Career.
Prior to each jump, they will have their jump gear inspected by the instructors, get a final briefing on weather conditions, exiting the aircraft and proper jump technique.
As they walk out of the building they touch the Jump Wings for good luck!
Then it is time to load up into the Twin Otter Airplane which will take them up to the jump altitude and out they jump when instructed by the jump master.
AM-490 is the only program in the entire world where the first jump is an unassisted freefall.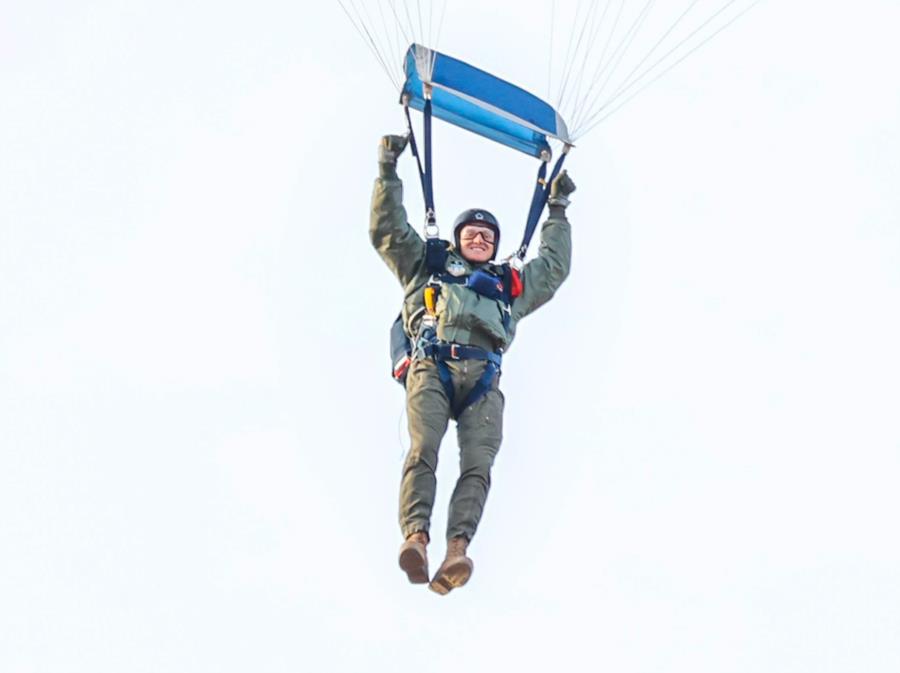 The joy and relief they must feel is written clearly on their faces as they walk back to the middle landing area to pack up their parachute.
And the Jump Masters, who have been teaching them throughout the course, jump after all the students have left the plane. They like to show off their skills and aim for the orange X. Every now and then a Jump 490 student lands on the orange X!
To View photos, go to Galleries > Airmanship > Jump. At the top of page, Sort Photo Order OLDEST to NEWEST. Click on the start page you want or click on the link below.
* Sort Photo Order must be set OLDEST to NEWEST for the link to take you to the correct start page.
Fall 2021 Jump 490 Aerial pgs. 435 (3rd row from top)-466 T Day
Fall 2021 Jump 490 Aerial pgs. 466 (2nd row from top)-494 M Day