Colorado Night
There are approximately 300 young men and women from Colorado currently serving as cadets at the United States Air Force Academy. The Colorado Parents' Club wanted to host their own state night to let their hard working, kind and smart cadets know that they believe in them, by showing their support, love and appreciation for their commitment and sacrifices. There were over 60 volunteers from beginning to end to help make this event happen.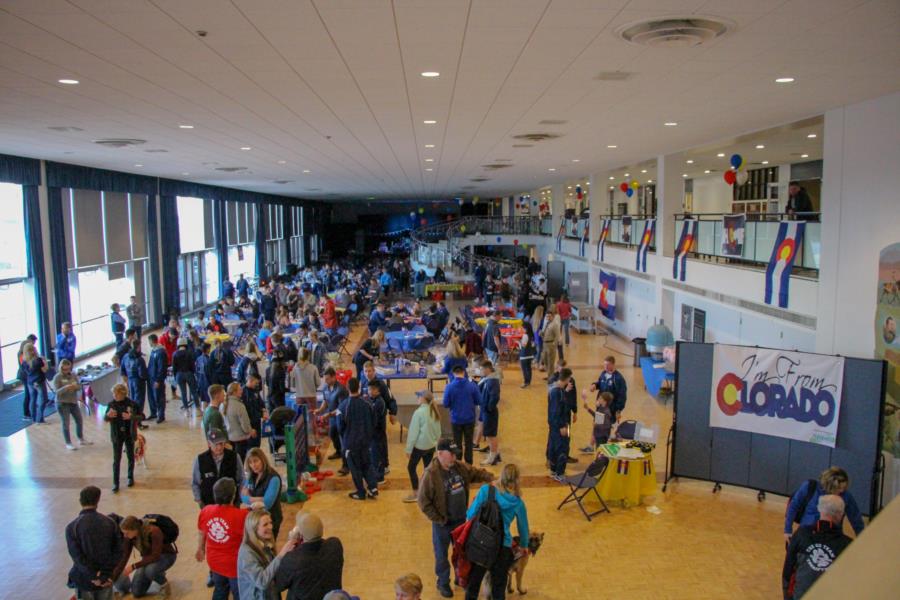 The main meal included: beef & vegetarian lasagna, chicken & vegetarian alfredo, salad and garlic bread. There were many desserts that were donated by parents.
There were dogs to pet and play with and the USAFA music band Blue Steel was there for live entertainment. The cadets were able to do various activities such as Guitar Hero, Twister, Broncos Training Station, Monster Trikes on the I-25 and others to receive tickets like at Chucky Cheese or Dave & Busters. Then they were able to redeem those tickets at the prize tables. Small goodie bags were given out to all Colorado, Wyoming, and International Cadets. Throughout the night, cadets had the opportunity to win various gift cards, gift baskets, Colorado souvenirs such as t-shirts, hats, socks etc. Colorado made products included jerky, honey, salsa, jewelry and candy. Their grand finale raffle included a pair of skis, passes to Arapahoe Basin, two discovery flights, $100 gift card to a local bicycle shop and an Overdrive Raceway race package.
They had a long list of local businesses and organizations that helped support the event.
The Colorado Parents' Club wanted their cadets to know that they are extremely proud of them, that they love them, support them, and appreciate their hard work and sacrifices. Keep up the great work!
To view all the photos from this event, go to Galleries > Extracurricular > Special Events or click the link below.