Weekly Review: July 25 - 30
This week began with the Basics completing their Aerobic Fitness Test (AFT).
According to the USAFA website, proficiency is required in both the Physical Fitness Test (PFT) and Aerobic Fitness Test (AFT). The fitness-testing program promotes maximum fitness within the Cadet Wing, develops a foundation for a lifetime of fitness and recognizes cadets who excel in maintaining their personal fitness. Members of the Cadet Wing who achieve the maximum point total on either the PFT or AFT belong to the prestigious 500 Club. Cadets who maximize their scores on both the PFT and AFT belong to the exclusive 1000 Club.
This week, Cadet Survival Training (CST) and Air Field sessions wrapped up for the summer.
Additionally, the Basics attended Heritage Day at Doolittle Hall this week. They left with the knowledge of USAFA history, a better understanding of the career they will soon be entering, and what will be expected of them at the Academy and in the military. They gained knowledge from graduates and know that they are welcomed in the Long Blue Line.
The week continued with Basics completing their Physical Training (PT) and Physical Fitness Test (PFT).
Cadets at USAFA will take physical fitness tests each semester to measure their overall strength and conditioning. Proficiency is required in both the Physical Fitness Test (PFT) and the Aerobic Fitness Test (AFT). Cadets are required to take both the AFT and PFT each semester of their cadet career.
During BCT, the Basics take the PFT to see where their fitness level is so they can work on improving their weak areas and get ready for the Fall PFT. During today's PFT, the Basics did pull-ups, long jumps, sit-ups, and push-ups.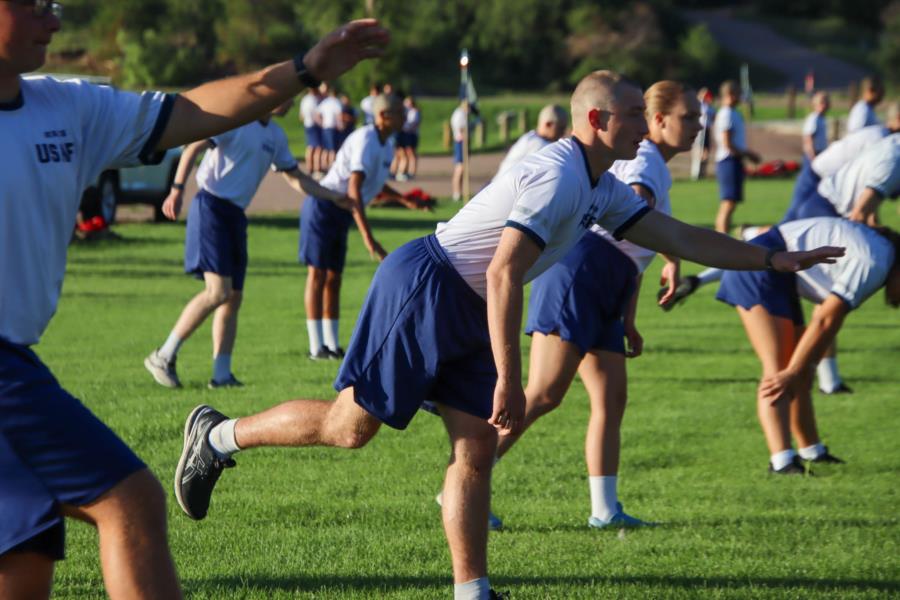 WebGuy was also there to capture the Prep School Graduation Parade, which took place a day early due to thunderstorms.
On Friday, the Basics took part in the The Commandant's Excellence Program (CEP) and Big Bad Basic. The Commandant's Excellence Program recognizes excellence during BCT. After the ceremony, the cadets did a run from Stillman Field, down Parade Loop, past Clune Arena and back up to the Terrazzo.
Once the Basics returned to the Terrazzo, they competed in Big Bad Basic. Big Bad Basic is a USAFA tradition that typically happens at the end of BCT. It is a pugilist competition where the best of the best challenge each other.
BCT is nearly complete. The next major event will be the Acceptance Day parade which will take place on August 5. Be sure to reserve your Acceptance Day Flag at the AOG Gift Shop!
Please enjoy the video below for highlights from this past week!