Heritage Tours & Capstone
Hello Families!
BCT is really in the final stages now. Today was spent in Element & Flight level groups taking the Heritage Tour led by their Cadre to give meaning to the iconic areas and monuments of the Cadet Area which they will pass by daily as Cadets for the next 4 years. They will revisit these areas during Recognition, but today was meant to really see and hear about them in a relaxed setting. Below are a few photos of the tour.
The other major activity today and tomorrow morning is BCT Capstone. These lectures take place in both Arnold Hall & Polaris Hall and are intended to tie everything they have been taught so far together. Here are photos taken in each location.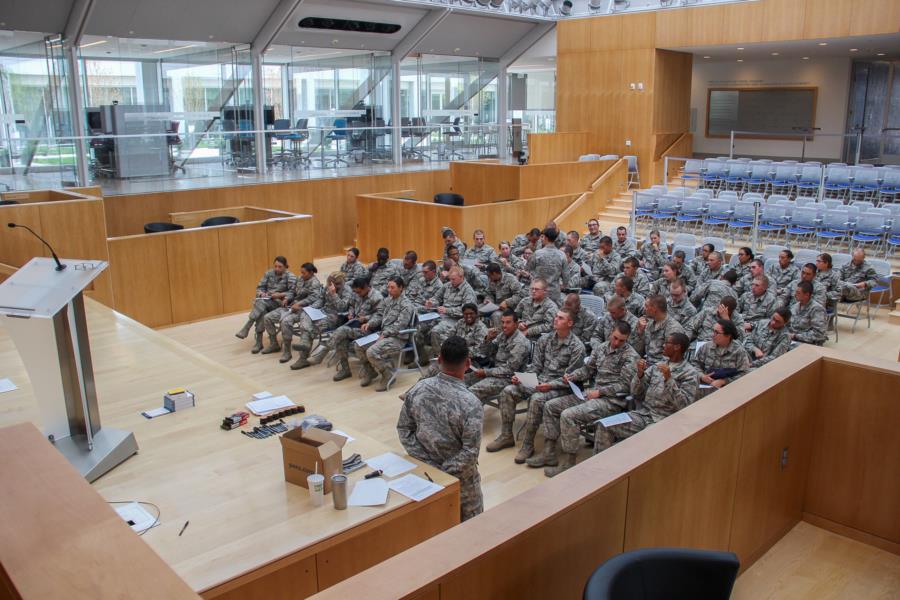 By now, you have had a lot of photos of your individual Basics, today's photos are to give you an overview of what the Basics did today. There are more photos in the BCT2 gallery, so some of you may still catch a glimpse of your Basic.
Tomorrow's big activity is the Commandants Luncheon and the BCT2 Awards Ceremony. We will of course be there to cover that and the photos will be up in the BCT2 gallery tomorrow evening. We will likely have some video to go with those photos. After the luncheon tomorrow the transition to academics will fill the afternoon. There is a lot to do in that area. For those of you who have other children starting college, think about what they had to do to start. They need to get their dorm and room assignments, course schedules, room assignments, meet with advisors, etc. Tomorrow evening they will move into their academic year squadrons. They will stop being Aggressors, Barbarians, etc. and become members of Mighty Mach One, Barnstormers, Phantoms, or one of the 37 other cadet squadrons. Most will only occasionally use the squadron nickname. Most will just identify by their squadron number, as in "I'm in 24". They will share this change with the Class of 2018 who will also be moving into new squadrons. 2nd Class Cadets (Juniors) change squadrons after the first 2 years in a rite of passage called the "Squadron shuffle". They will assume leadership roles in their new squadrons much like officers in the Air Force do when they change bases every 3 years.
The rest of the Cadet Wing will be returning on Saturday, so the Academy will be a busy place once again. The main activity for the Basics will be Accemptance Parade practice. (This is not open to the pubic).
Sunday will be another busy day. Worship services for those who want to attened will be in the morning. After lunch, there are more briefings on things like traffic safety & flag decorum. After having their every move directed by their Cadre, part of the transition briefings deal with managing themselves again. They will have more clothing issue, and will start to get their computers which continues over several days. (Imagine the logistics of getting 1100 laptops up and running with all the software necessary to start college). After dinner on Sunday there are auditions for Cadet Chorale, & Drum & Bugle Corps. To make it even crazier, they are all still Basic Cadets, so they have to be escorted by an upper class cadet everywhere they go.
Monday the main activity for the returning Cadet Wing is the Acceptance Parade practice. The Basics will be getting their dorms in order plus miscellaneous individual appointments, & laptop issue and set-up.
Tuesday is (TA DA!) Acceptance Day. A big day for all of you, but the main activity for your soon to be C4C's after lunch is meeting with academic advisors and getting all their courses sorted out. The good news here is that there is no wait list or adding of classes stress. All the testing they did at the beginning of BCT has helped get them placed in the necessary courses. 4th Class cadets all take pretty much the same courses. They also have more clothing issue, they have to buy their texbooks, drum & bugle practice begins, there are also briefings, briefings, & did I mention, briefings.
Wednesday is more of the same, and classes begin on Thursday.
So there you have it. I know there are lots of questions. When do they get their cell phones? What about A-Day packages? What should I bring them on A-Day? Honestly, the answers are different depending on each Cadet. My advice is to keep it simple for now. If your Basic has made requests in their letters, than follow those. As you can see, they will have a lot on their plates. Don't complicate things for them right now in your attempts to be helpful. They will tell you what they need. Most everything can be worked out between now and Parents Weekend in 3 weeks.
Tomorrow I will have a blog about the Acceptance Day Parade. I am betting that your Parent's Clubs and various on-line groups have already briefed you way more than I can, but I will have a few tid bits for you in my blog. The WebGuy photographers will be taking photos at the parade and at the tailgates after. We are all looking forward to seeing you and saying hello.
Lastly for this blog, our BCT coverage is almost at an end, but we have only just begun for the Academic Year. There is much more to see. We will be telling you more about that after Acceptance Day. Be sure to check back tomorrow for our BCT Luncheon coverage. Have a great evening.