USAFA Falconry
Experts once said falcons could not be trained to perform before huge crowds because the birds would panic and flee. Since 1956, however, cadets have flown the birds at sports events before thousands of cheering spectators. Sports audiences across the country have been intrigued and delighted by the aerobatics of the falcon, flying mascot of the U.S. Air Force Academy. Trained and handled by cadet falconers, the birds soar and dive, sometimes zooming low over the heads of spectators.
The Academy's new falcon mascot has its new name, voted on by the Cadet Wing. Nova is a nod to the newly established Space Force, and means "new bright star." Nova joins Ace, Apollo, Cairo, Karena, Oblio, Zeus and Ziva.
To meet all of USAFA's Falcons go to https://www.usafa.edu/cadet-life/clubs/falconry/
The Class of 1995 led the efforts of nearly 200 donors to contribute more than $20,000 to acquire the new gyrfalcon and further support the Cadet Falconry Club. Funds raised will also go toward the preservation of Aurora, who died last year. She will be displayed on campus in a long-standing tradition to honor all USAFA mascots for their service. Additional funding will go toward equipment that is required for care, handling and training of the falcons and training and presentations for the cadets.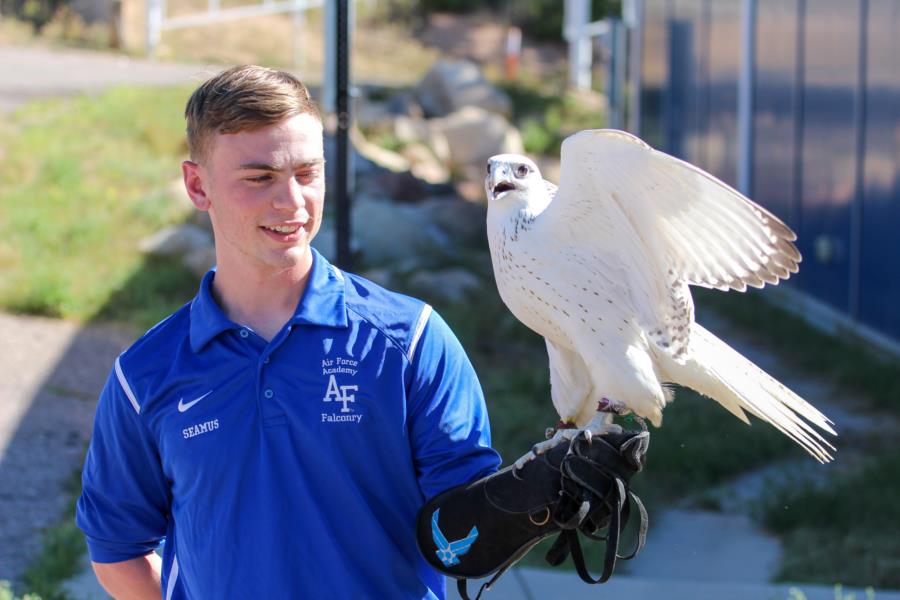 Special thanks to the AOG Communications team for sharing these photos.
Photos can be found in, Galleries > Extracurricular > Special Events or click the link below.